64th WMC Military Pentathlon – Salinas (ECU) – Update – Day 4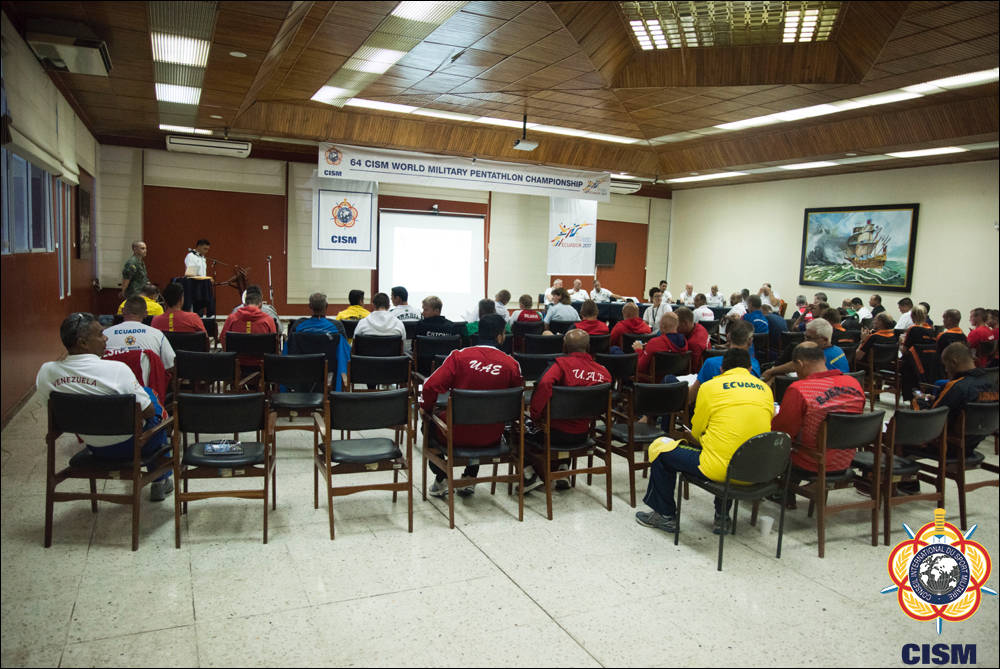 Enlarged Meeting and Throwing Event
SALINAS (ECU) – The fourth event out of five of the 64th World Military Pentathlon Championship was scheduled yesterday, August 3, in Salinas (ECU) with the Throwing event.
However, what is happening during a throwing competition? It is simple; the athletes must throw projectiles with a weight of 575 grams (weight tolerance +/- 25 grams) for men and 375 grams (weight tolerance +/- 25 grams) for women.
Throwing consists of precision throwing at distances of 20, 25, 30 and 35 meters (five meters shorter for each target for females). The targets consist of an inner circle with radius of one meter, and an outer circle with radius of two meters. The time allotted for precision throwing is three minutes, 16 projectiles with four grenades on each target.
Distance throwing is also included, where competitors throw three grenades in two minutes. Only the longest throw will count toward the score, which combines points for both distance and precision.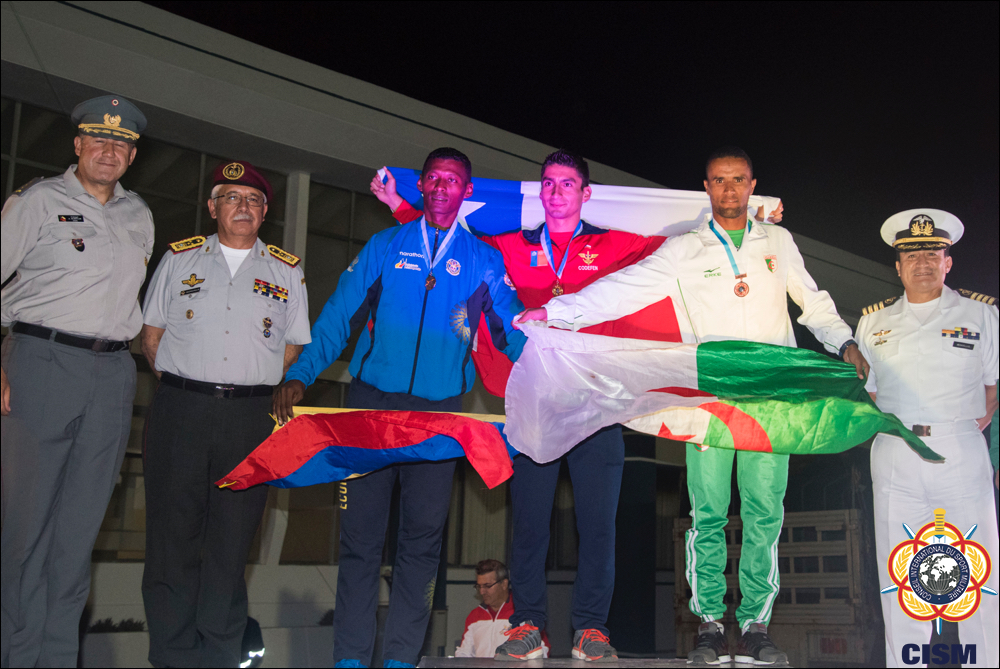 Yesterday, the 2.Cabo Hector Roa (CHI) was the strongest and grabbed the gold medal with 195,5 points, 0,4 points ahead of the local silver medalist Sgt Alex de Leon (ECU). With 190,2 points, Sgt Chef Farid Maatallah, from Algeria, was ranked third. After four events, the individual men's provisional ranking totally changed as the former leader Corporal Philippe Eibl and Wilberto Torres (BRA), who was ranked third before the throwing, are now respectively are now ranked eight and eighteenth. The first place now belongs to Corporal Zheng Zhang from China with 4408,6 points while 1.Lt Aliaksandr Vasileuski (BLR) is still second with 4403,0 points and 2.Lt Chung Song Ri is now completing the podium with 4399,3 points.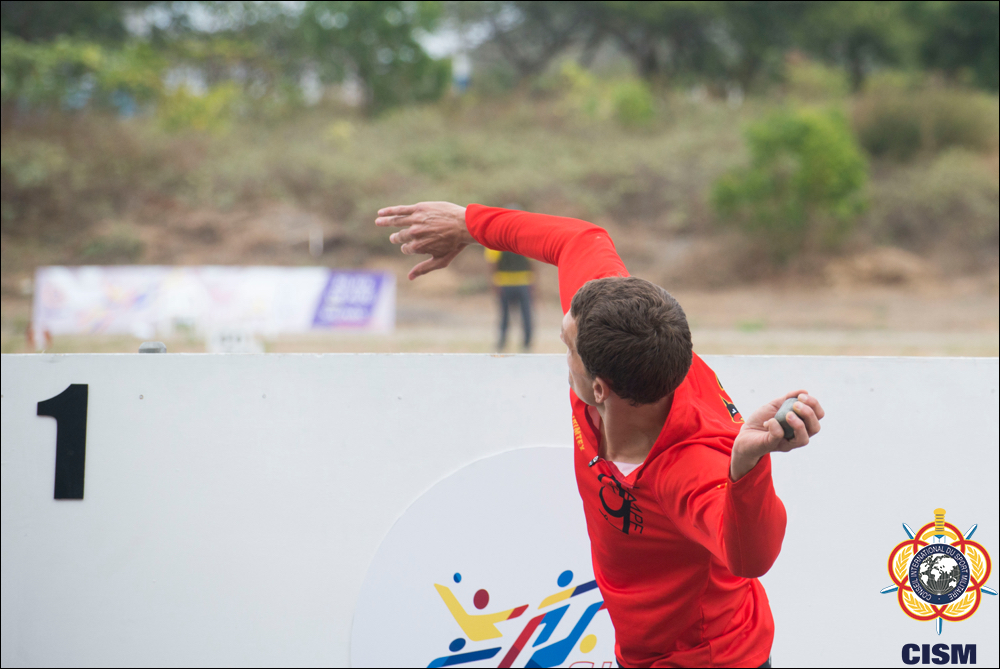 Chile (Roa, Valenzuela, Diaz, Carvajal and Mundaca – 4224,4 points) also won the team men throwing event ahead of China (Zhang, Gong, Wang, Pan, Aniuergu – 4218,8 points) and Russia (Krylov, Svechnikov A. and P., Alpatov and Driukhanov – 4208,0 points).
With this second place yesterday in the throwing event, the Chinese team, with 17514,5 points, also stole the provisional lead to Belarus (Vasileuski, Shkuruk, Markevich, Herasimau and Viarenich - 17413,3 points) while Ecuador (De Leon, Rodriguez, Torres, Carrasco and Merchan – 17333,7 points) is back in the gold medal race!
It was a very good day for the athletes from the Democratic People's Republic of Korea with the gold medals in the individual and team female throwing events.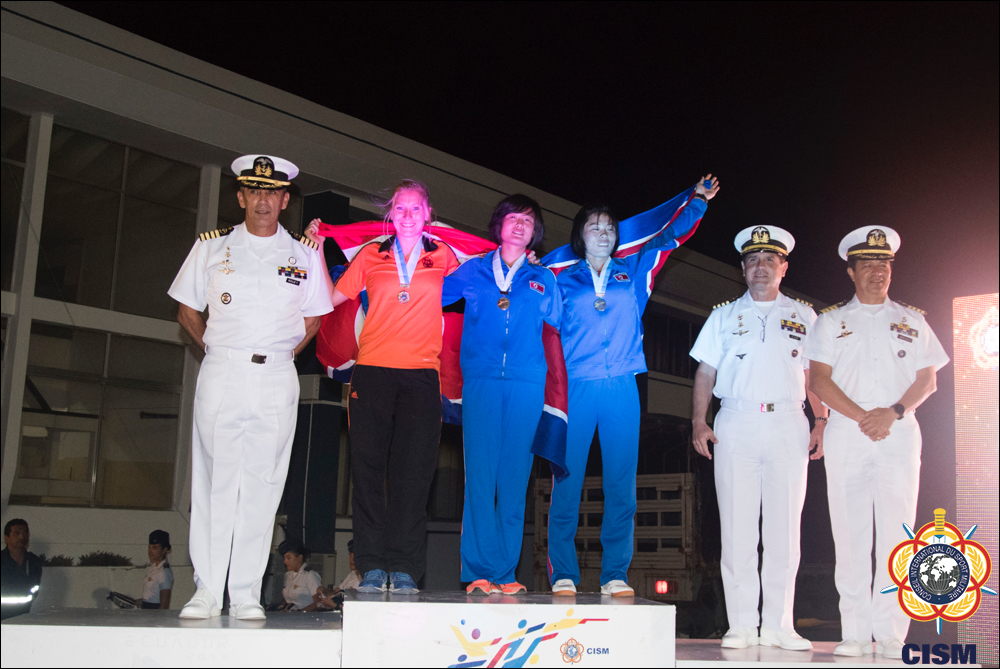 Indeed, Private Yong Mi Choe won the individual women throwing event with 1067,6 points. The Dutch Captain Myrna Nierop won a deserved silver medal with 182,1 points, 1,8 points ahead of the other DPRK's athlete on the podium, Captain Ok Ryu!
As there is only one event left, there were no changes at all in the women's provisional ranking and the Chinese Corporal Chaonan Guan is still leading with 4398,5 points while her fellow citizen Corporal Wu Qian (4364,2 points) only has a 40 points lead on the Danish Private Sara Hjalager.
As previously said, the DPRK's female team also won the team women throwing event! Congratulations to Private Choe, Captain Ryu, Private Ri and 2.Lt Kim for this impressive performance (3112,0 points)! They defeated China (Guan, Wang, Lu and Wu – 3064,4 points) and Brazil (Ramos, Freire, Jessica and Drumond – 2885,6 points)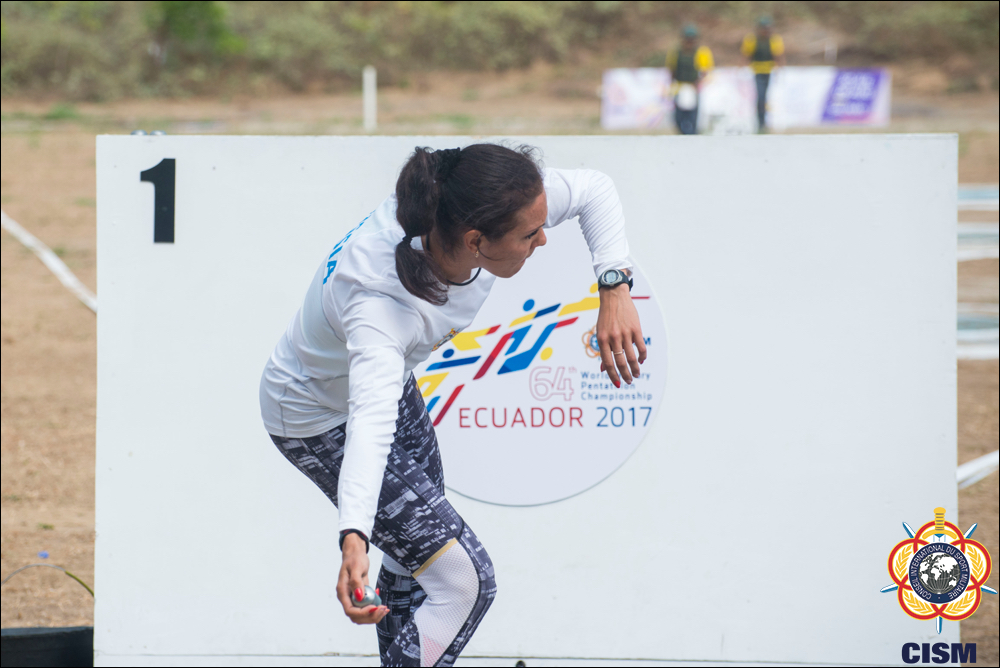 With 13056,1 points, the Chinese female team is now almost sure to win the overall competition ranking with a 419,3 points lead on Denmark (Hjalager, Nielsen, Tolstrup and Kjar – 12636,8 points) before the last event. With their good performances in the throwing event, the DPRK's athletes are now ranked third (12525,3 points) and will have to fight against Brazil to stay on the podium until the end of the competition!
Everything will be decided today in Salinas with the cross-country event!
RESULTS OF THE DAY:
Female: Individual Throwing – Individual Overall Ranking– Team Throwing - Team Overall Ranking
Male: Individual Throwing – Individual Overall Ranking – Team Throwing – Team Overall Ranking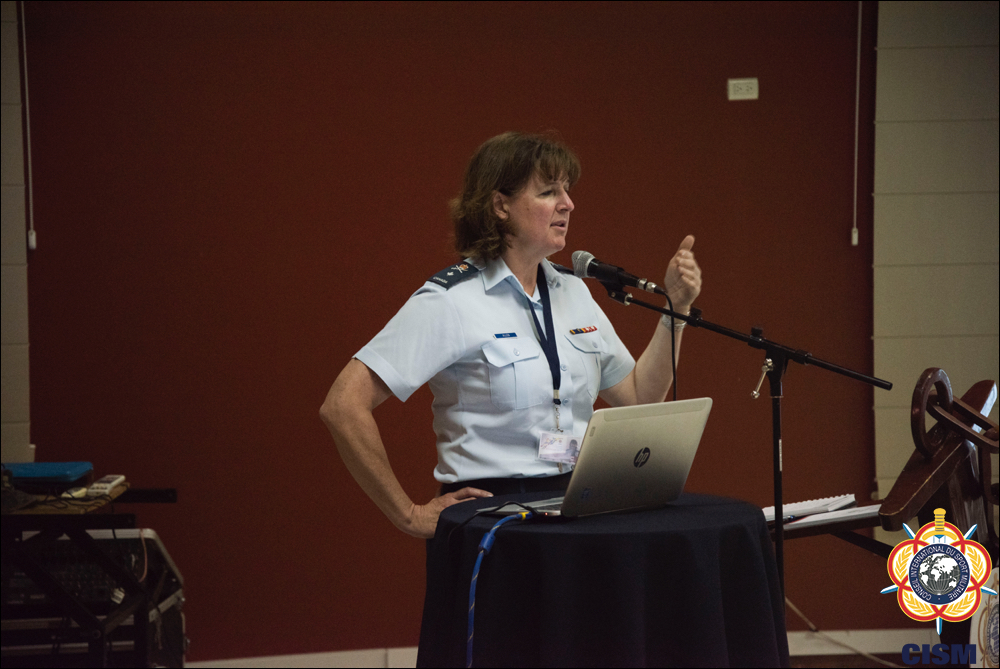 You can download all the pictures of the 64th WMC Military Pentathlon on the CISM Flickr Account: https://flic.kr/s/aHsm1tXxJo
For more information about the 64th WMPC, visit the OC Official Facebook Page: https://www.facebook.com/64WMPC/
All the results are also available on http://cism-pentathlonecuador.ec/results.html
(Source: CISM Communication and Media Department)
(Pictures: Mr. Maxime Morlet, CISM Media and Communication Assistant and Photographer)