40th WMC Judo – Paris (FRA) – Competition Day 2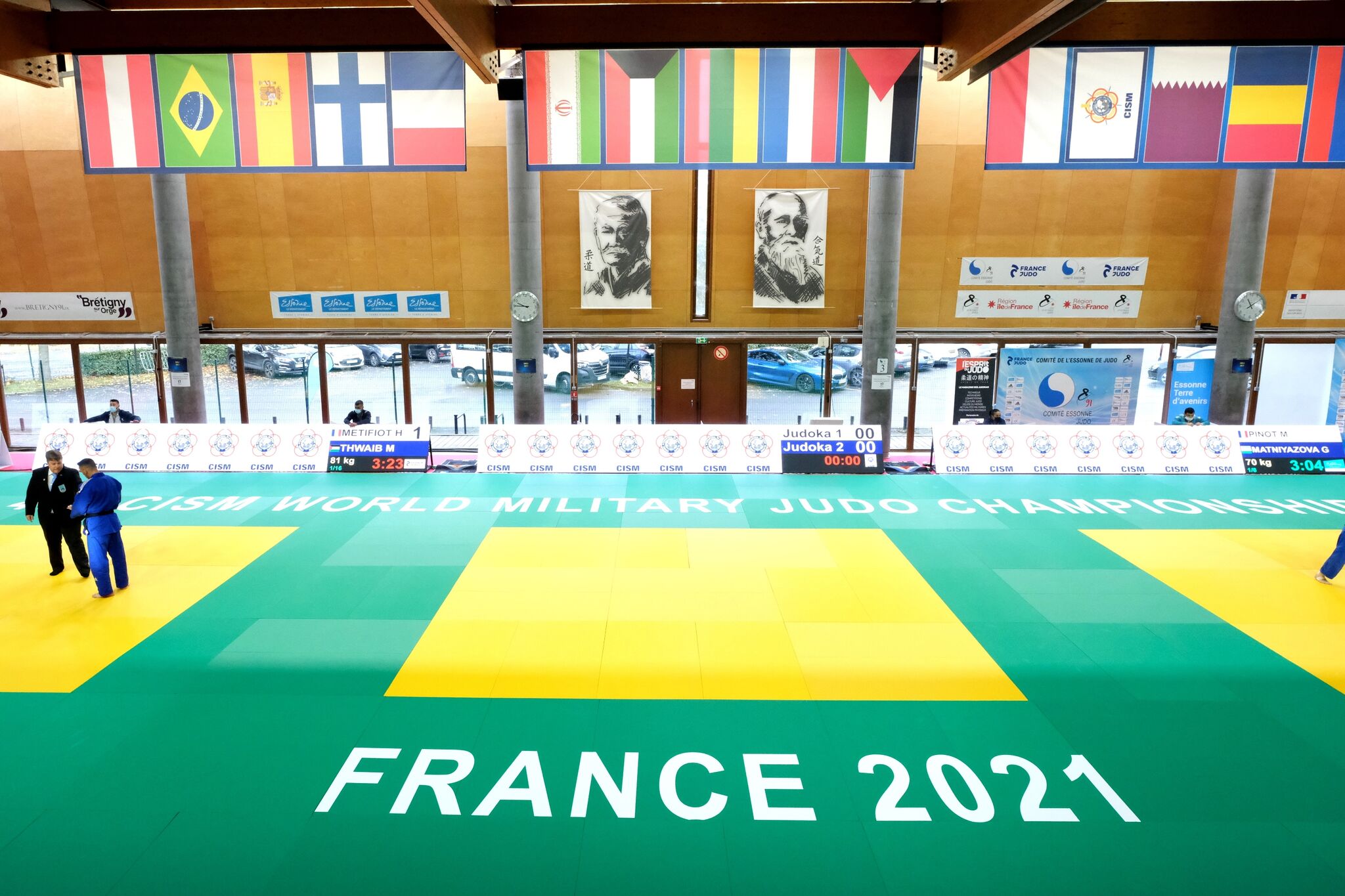 PARIS (FRA) – The second day of the 40th edition of the World Military Judo Championship ended after an exciting day of judo, where big names of the sport met with a new generation of competitors who for sure will shine in the coming years on the international scene. The number of World Judo Tour athletes was once again impressive and confirmed the impression of day one, that the military event is a high-level judo competition.
Ilias Iliadis, World and Olympic Champion, is a recognized coach now and he was also present in Brétigny-sur-Orge for the event, to accompany the Uzbek team. His observations about the event were, as always, interesting, "It's a very good event with an interesting level. There are not so many countries, but this is logical due to the pandemic. Nevertheless, the countries that came did so with top players.
For Uzbekistan it's an important competition to participate in. All our athletes are in the armed forces, so they have to be here to represent the country. In Uzbekistan we are all training together, the young ones and the more experienced competitors. After this we will go to the World Judo Tour events in Baku and Abu Dhabi, so this World Military Championships is a good test and part of the preparation, especially since we are already preparing our big rendezvous at the World Championships in Uzbekistan next year. We want to have the best team next year, so it all starts here."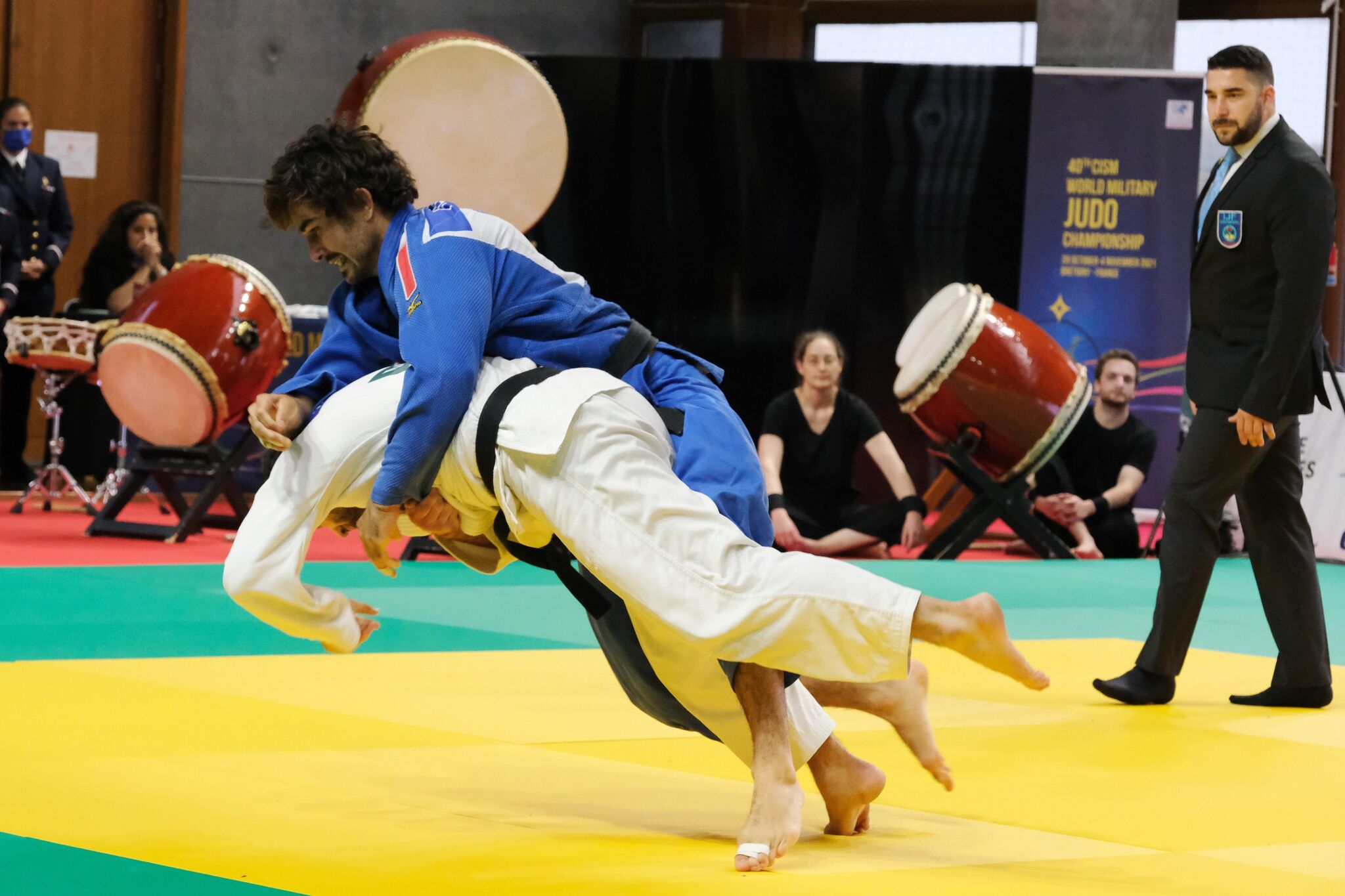 Fabrice Guilley is the President of the Comité de Judo de l'Essonne, the regional judo league that was directly involved with the organisation. After two days of individual competition, he gave his very positive feedback, "Everything went really well. We had a great atmosphere, a real camaraderie. From a technical point of view, we had a really strong French team and generally speaking many strong delegations. There were some surprises, such as Margaux Pinot, who quickly lost before coming back for a bronze medal, but today we had superb judo from Audrey Tcheumeo and Julia Tolofua, who both won titles. It's always nice to win at home.
From an organisational point of view, we raised it to a grand slam standard, with a big screen and everything that looks like a World Judo Tour event. To do that we were able to count on the military organisation but also the support of France Judo and their experts.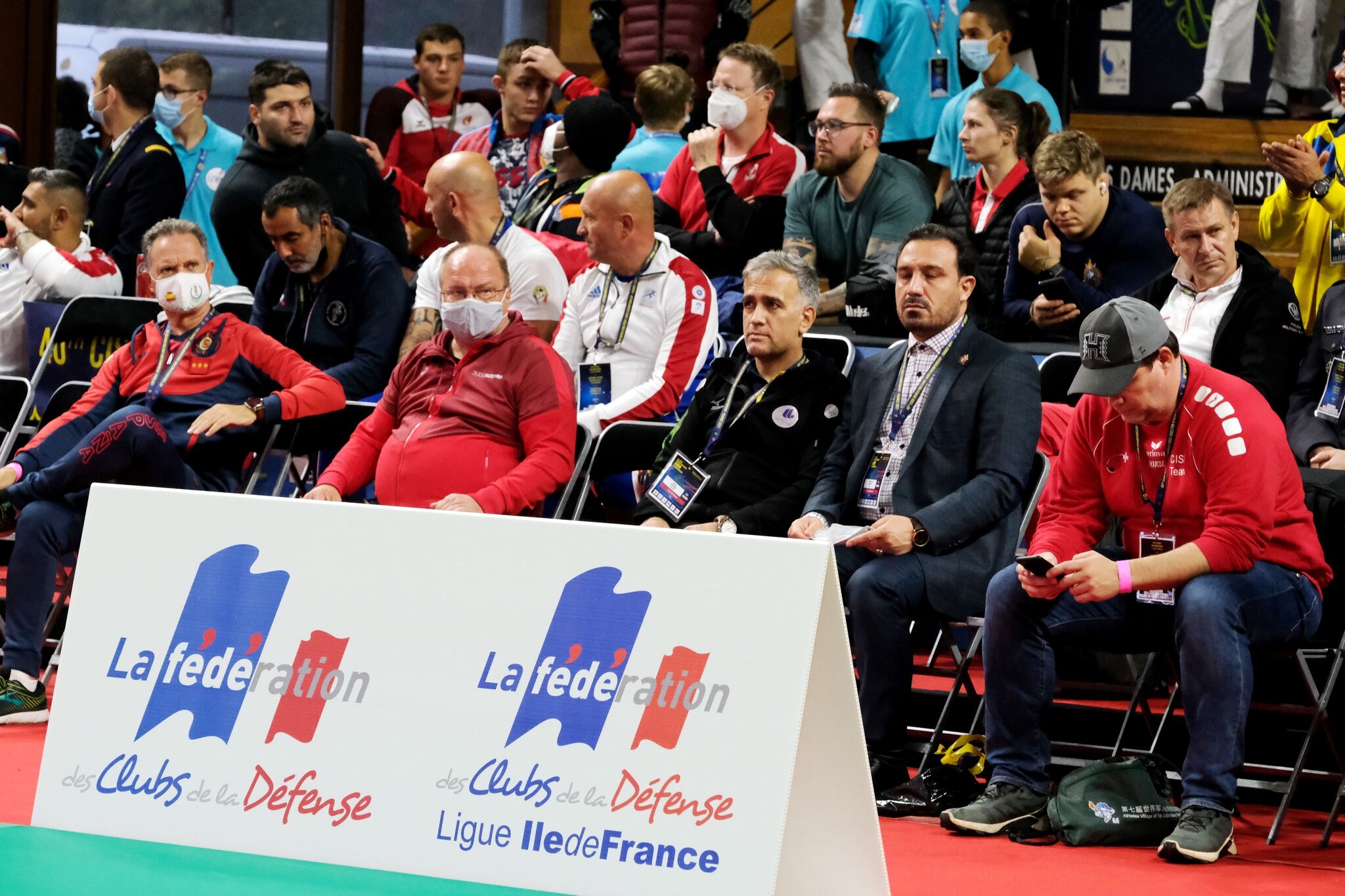 Many important personalities from the armed forces, as well as from the civilian population, were present and enjoyed the competition very much. It must be said that top countries were competing, such as France of course, but also Brazil, Russia, Uzbekistan, and Austria. All those countries won medals. They brought their top athletes here, who are what we might call professional judoka.
I want also to congratulate other countries, such as Spain and Sri Lanka, who came with career military personnel. They are not necessarily professional athletes, but they gave everything and that was so nice to see. All continents were represented, which is also very positive. It demonstrated in the best possible way that through sport and especially judo we can cultivate friendship and mutual prosperity. Almost all the delegations brought a referee, and we had no major discussion about decisions, throughout the weekend. There was a lot of respect. I believe that in the end Stefan Marginean, the head of the IJF Military Commission, was really happy, as we all were."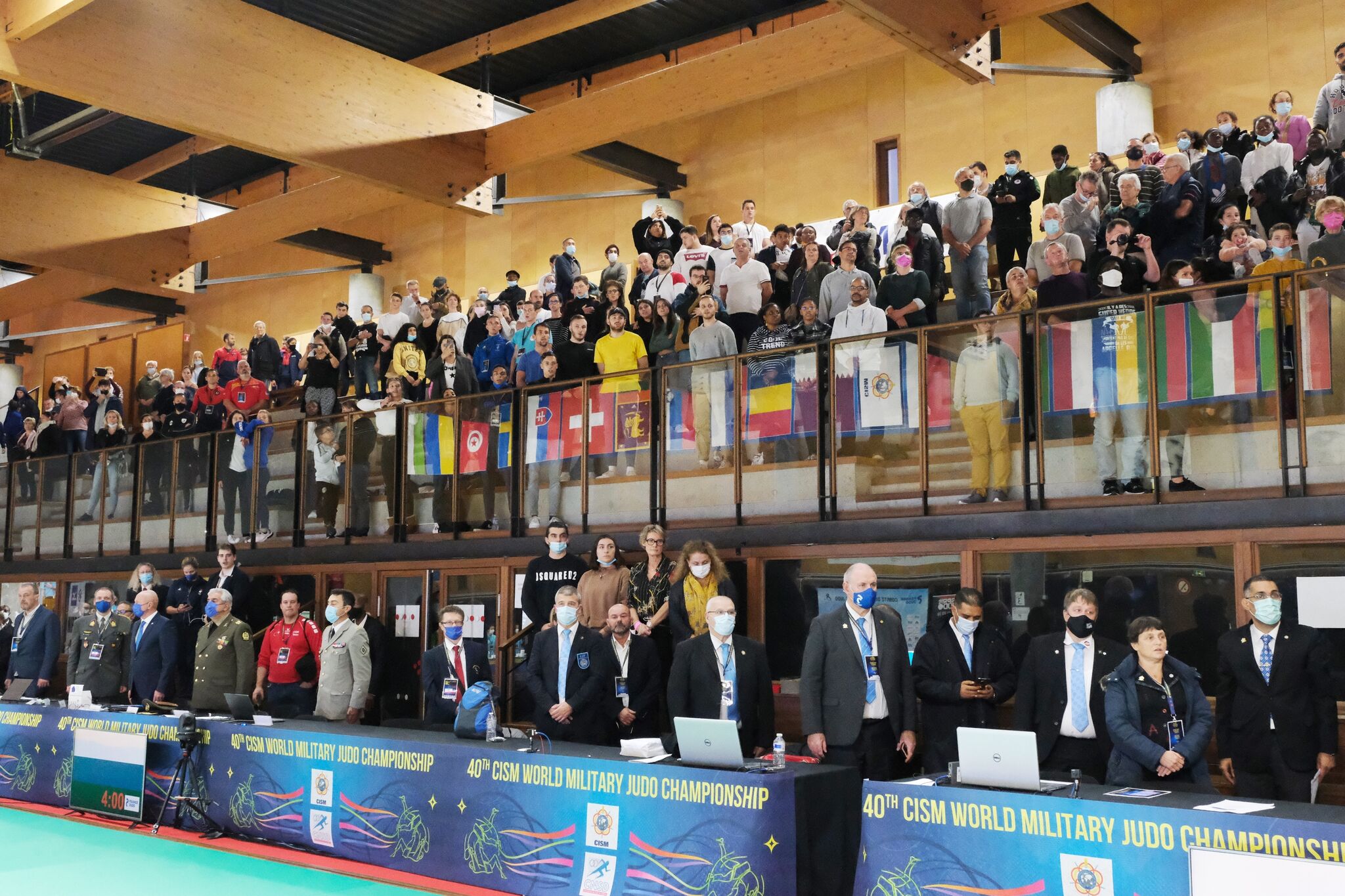 Captain Erwan Lebrun, project manager for the event, was also very pleased at the end of the competition, "Eveything was perfectly organised from the welcome of the delegations to the running of the competition, which really was like a grand slam. All delegations were really happy.
We had a lot of World Judo Tour athletes, which raised the competition to the next level. To organise the event we were helped a lot by France Judo and we benefited from there expertise.
The event is not over yet; tomorrow we have two important activities. One will focus on Paralympic athletes together with military personal who were injured during their service. They will discover judo, a sport that is totally adapted to their condition. Then we'll have a second exploration with young people from the region who will be able to discover judo on the tatami with members of the French national team. It's a premiere on the occasion of such an event. Then to finish we'll have the team event on Tuesday, so there is still a lot to come."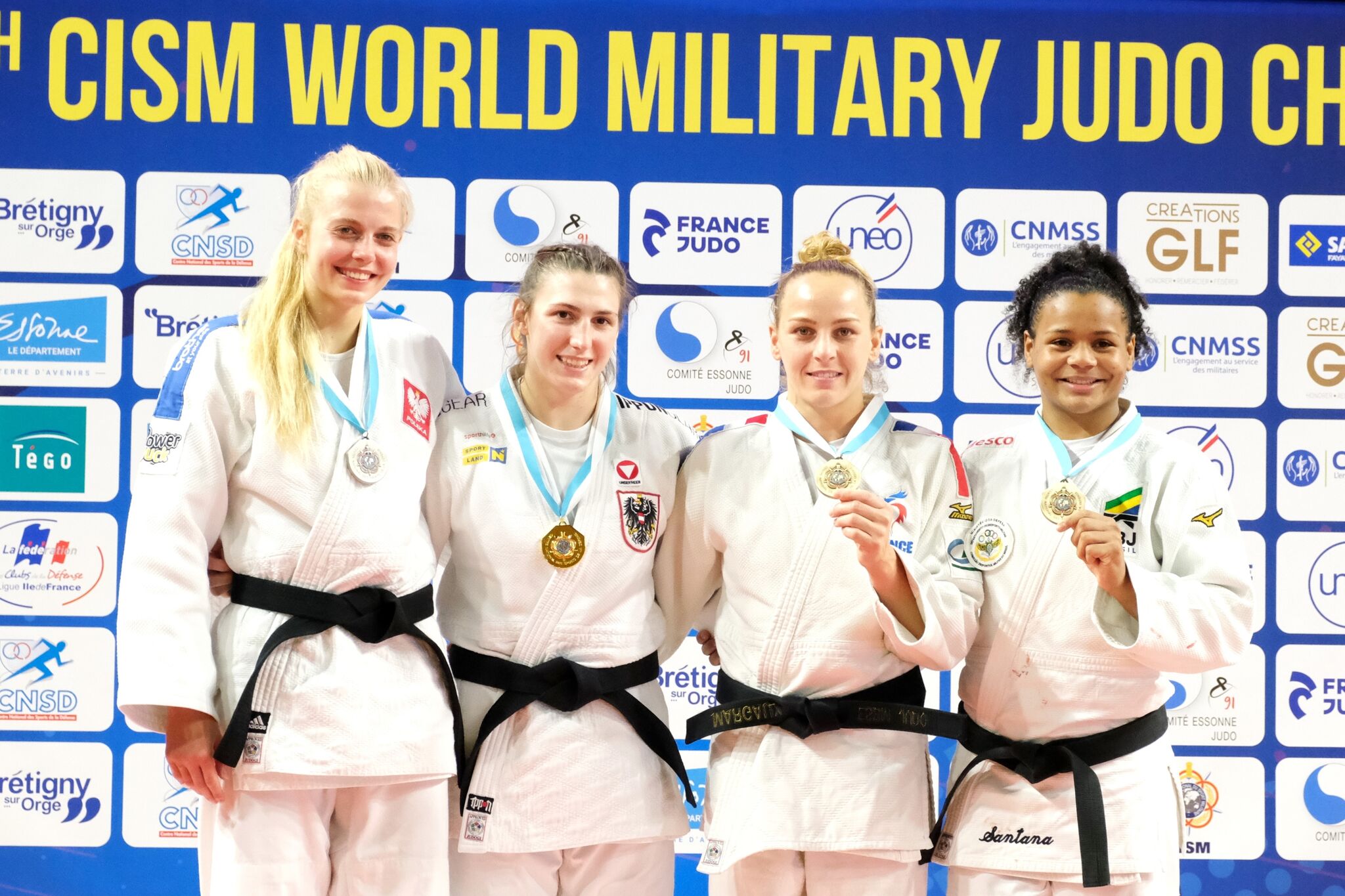 WROBLEWSKA Eliza (POL) - POLLERES Michaela (AUT) - PINOT Margaux (FRA) - FRONER SANTANA Ellen (BRA)
In the women's -70kg competition, Austrian Michaela Polleres, silver medallist at the Tokyo 2020 Olympic Games, defeated Polish Eliza Wroblewska after an intense final.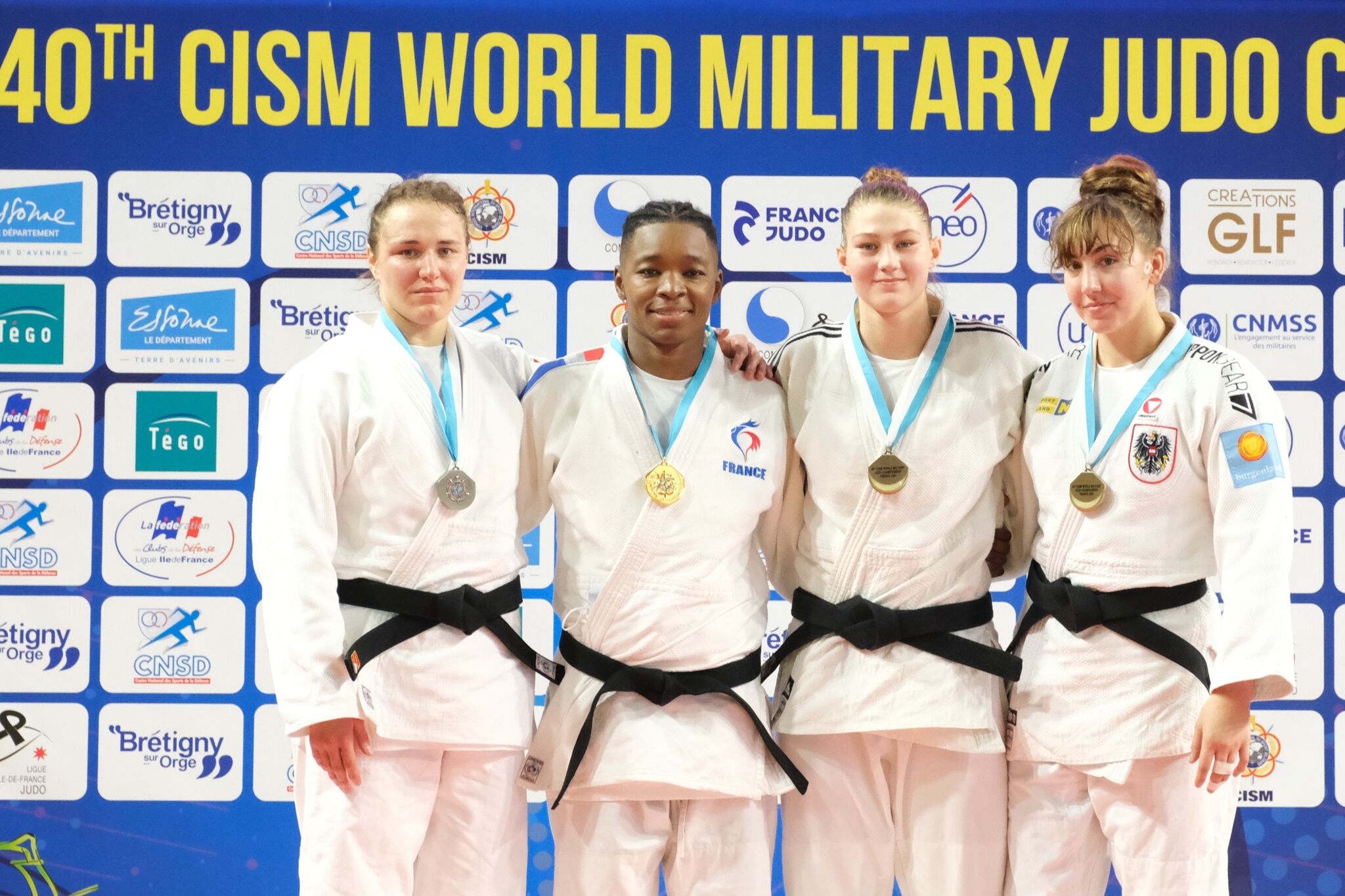 BABINTSEVA Aleksandra (RUS) - TCHEUMEO Audrey (FRA) - LYTVYNENKO Yelyzaveta (UKR) – HUNGER Marlene (AUT)
Another silver medallist at the Rio 2016 Olympic Games and IJF World Champion in 2011 in Paris won in front of her home crowd: Audrey Tcheumeo, a world-renowned judoka, became World Military Champion on her home ground by defeating Russia's Aleksandra Babintseva in the -78kg final.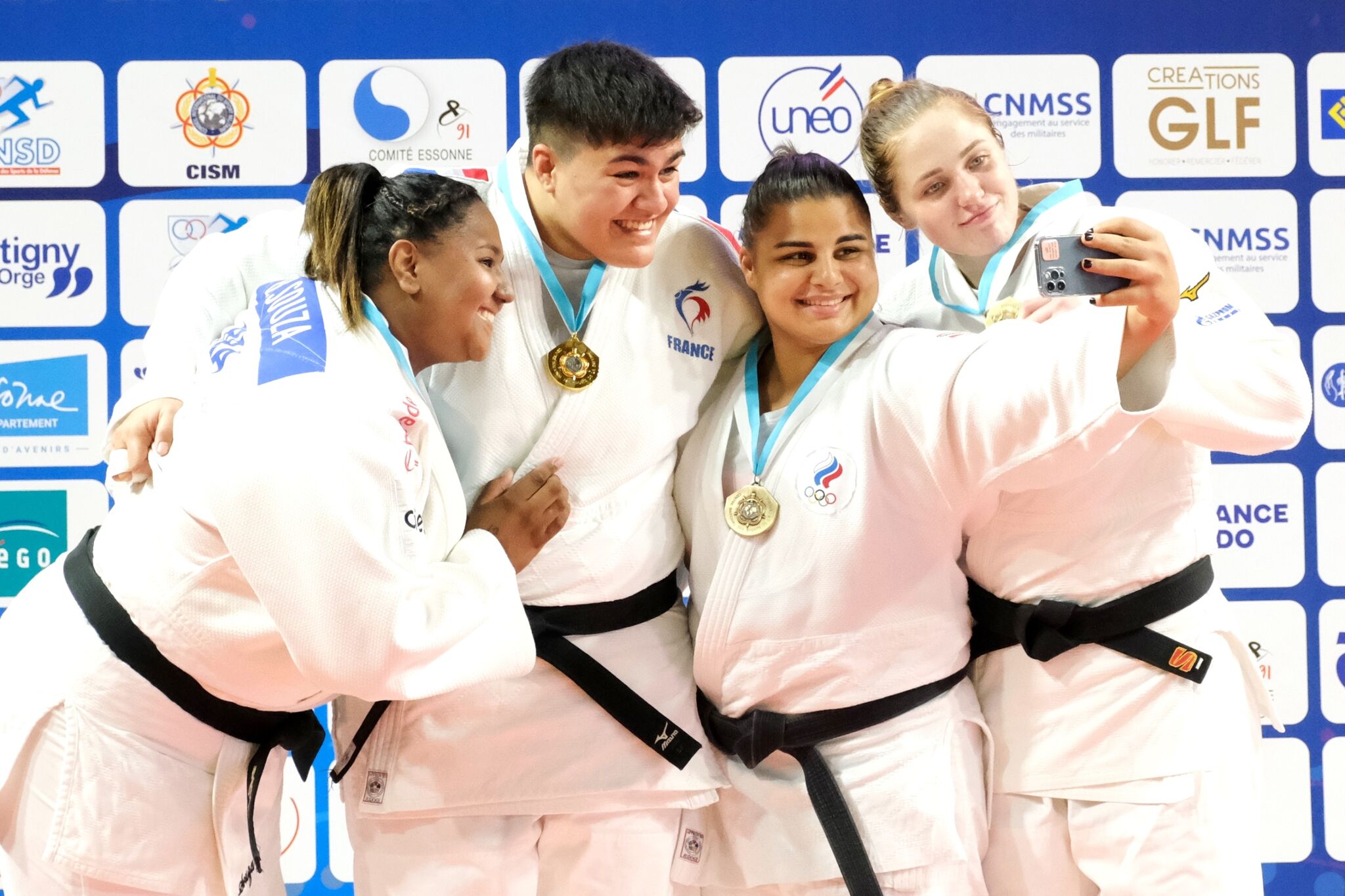 RODRIGUES DE SOUZA Beatriz (BRA) - TOLOFUA Julia (FRA) - GASPARIAN Anzhela (RUS) - GUSHCHINA Anna
The last women's competition of the day was also a success for the French delegation, which won another gold medal with Julia Tolofua's victory over Brazil's Beatriz Rodrigues de Souza in the top category of +78kg.
The Brazilian Guilherme Cesar Schmidt offered the Brazilian delegation a new gold medal and a first military world championship title after his triumph over Ukrainian Hievorh Manukian in -81kg.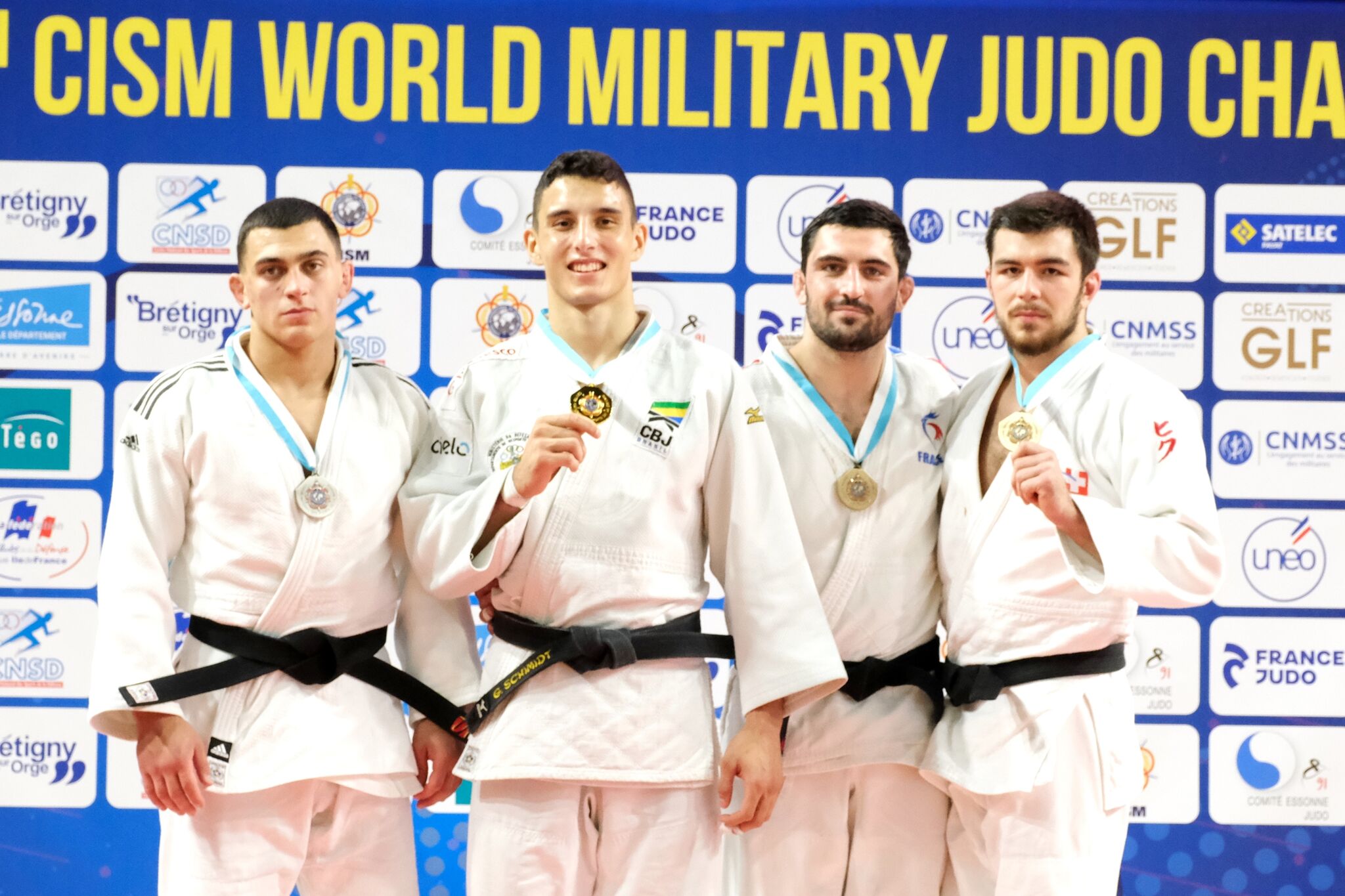 MANUKIAN Hievorh (UKR) - CESAR SCHIMIDT Guilherme (BRA) - METIFIOT Hugo (FRA) - WITTWER Lukas (SUI)
After a first day punctuated by two gold medals, the Uzbek delegation was back with two new titles thanks to its male judokas.
First of all, Davlat Bobonov, bronze medallist at the Tokyo 2020 Olympic Games and silver medallist at the 2021 IJF World Championships in Budapest, became World Military Champion by defeating Brazilian Rafael Godoy de Macedo in -90kg.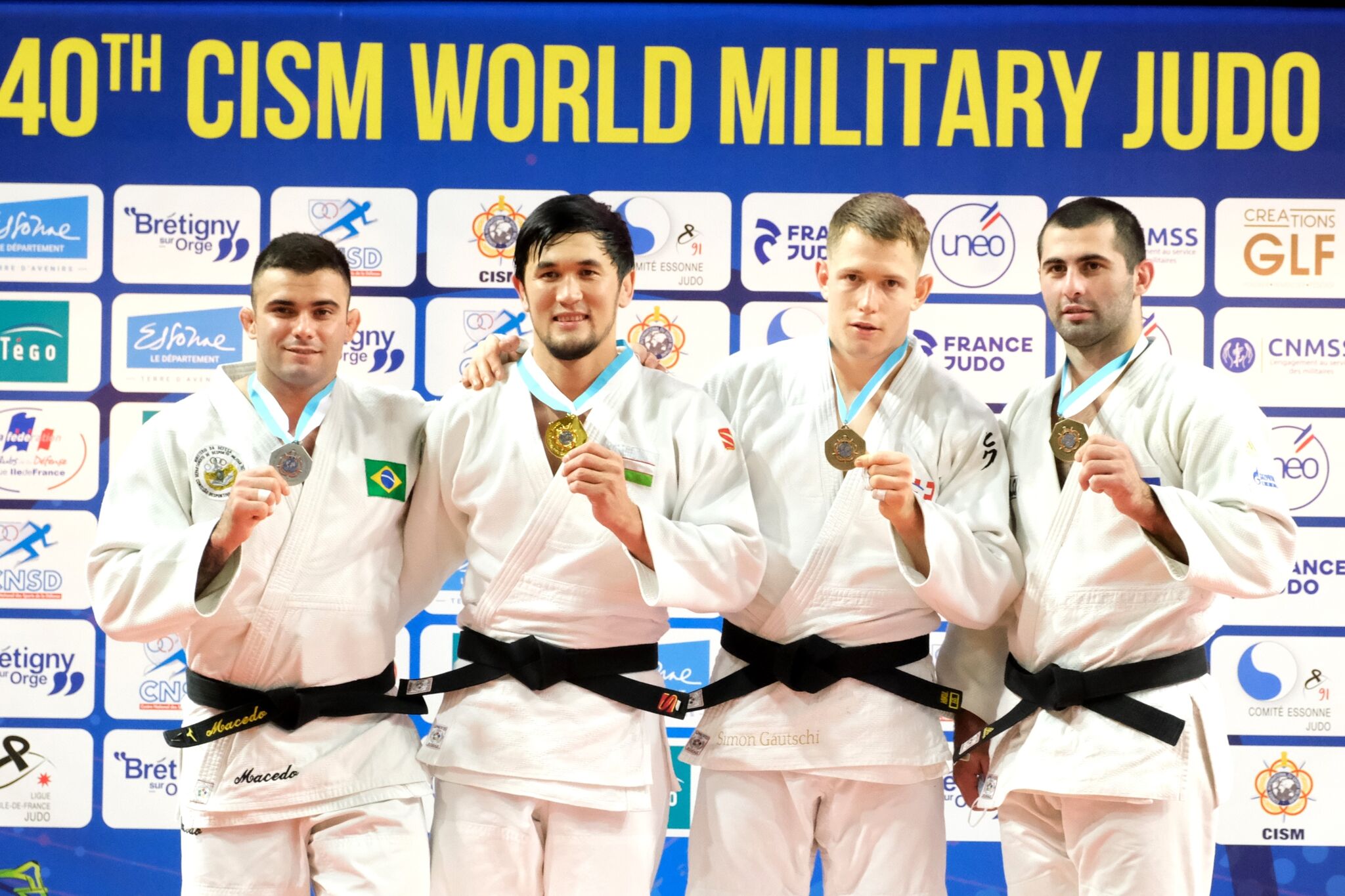 GODOY DE MACEDO Rafael (BRA) - BOBONOV Davlat (UZB) - GAUTSCHI Simon (SUI) - IGOLNIKOV Mikhail (RUS)
A few minutes later, his compatriot Muzaffarbek Turoboev also put in a splendid performance against Swiss Daniel Eich in the -100kg final.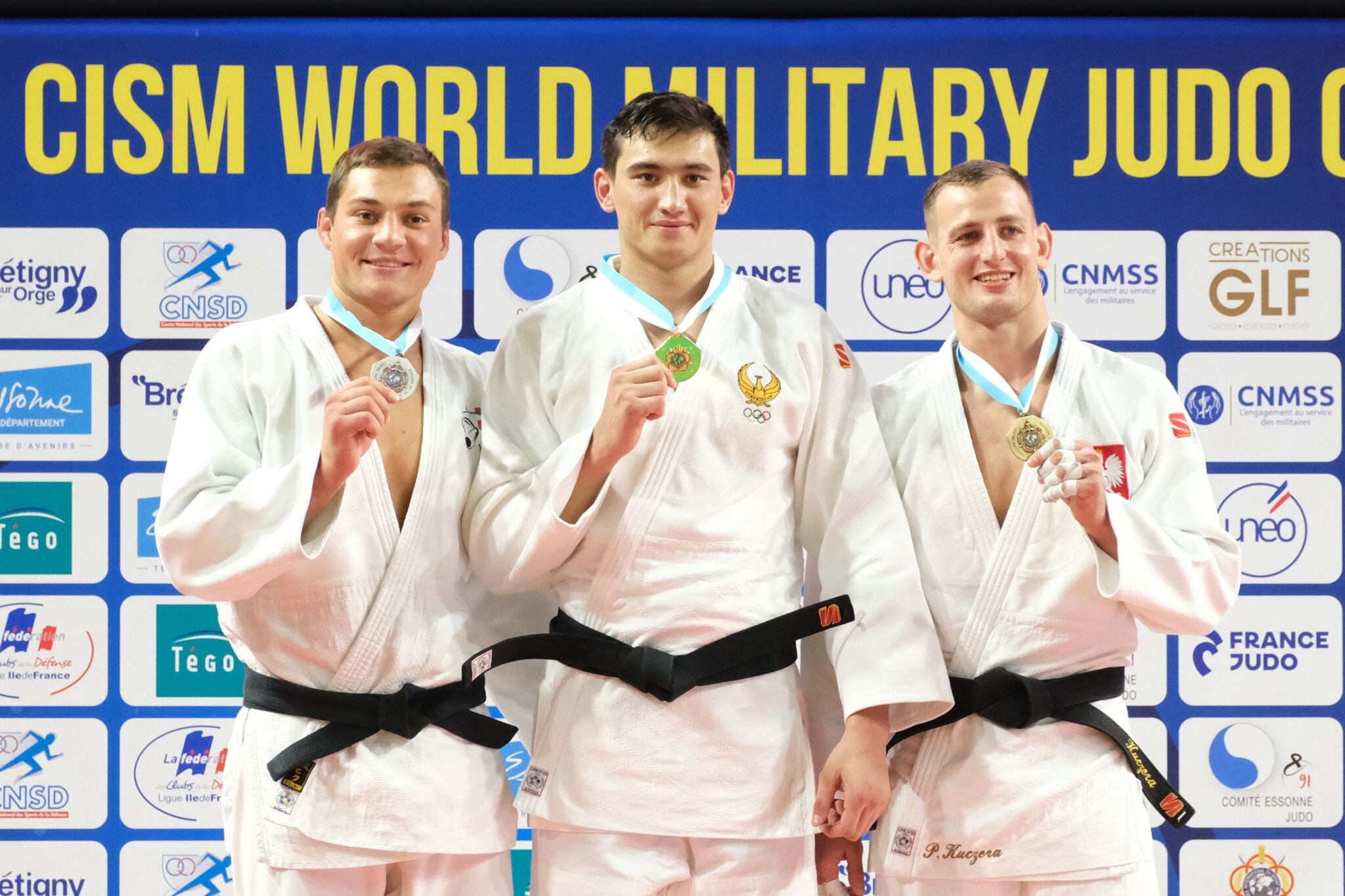 EICH Daniel (SUI) - TUROBOEV Muzaffarbek (UZB) - KUCZERA Piotr (POL)
In the last individual competition of the day, Inal Tasoev, recent winner of the Paris Grand Slam, won gold in the +100kg category against Brazilian David Moura Pereira da Silva, after having been scared to death by Uzbekistan's Shokhrukhon Bakhtiyorov.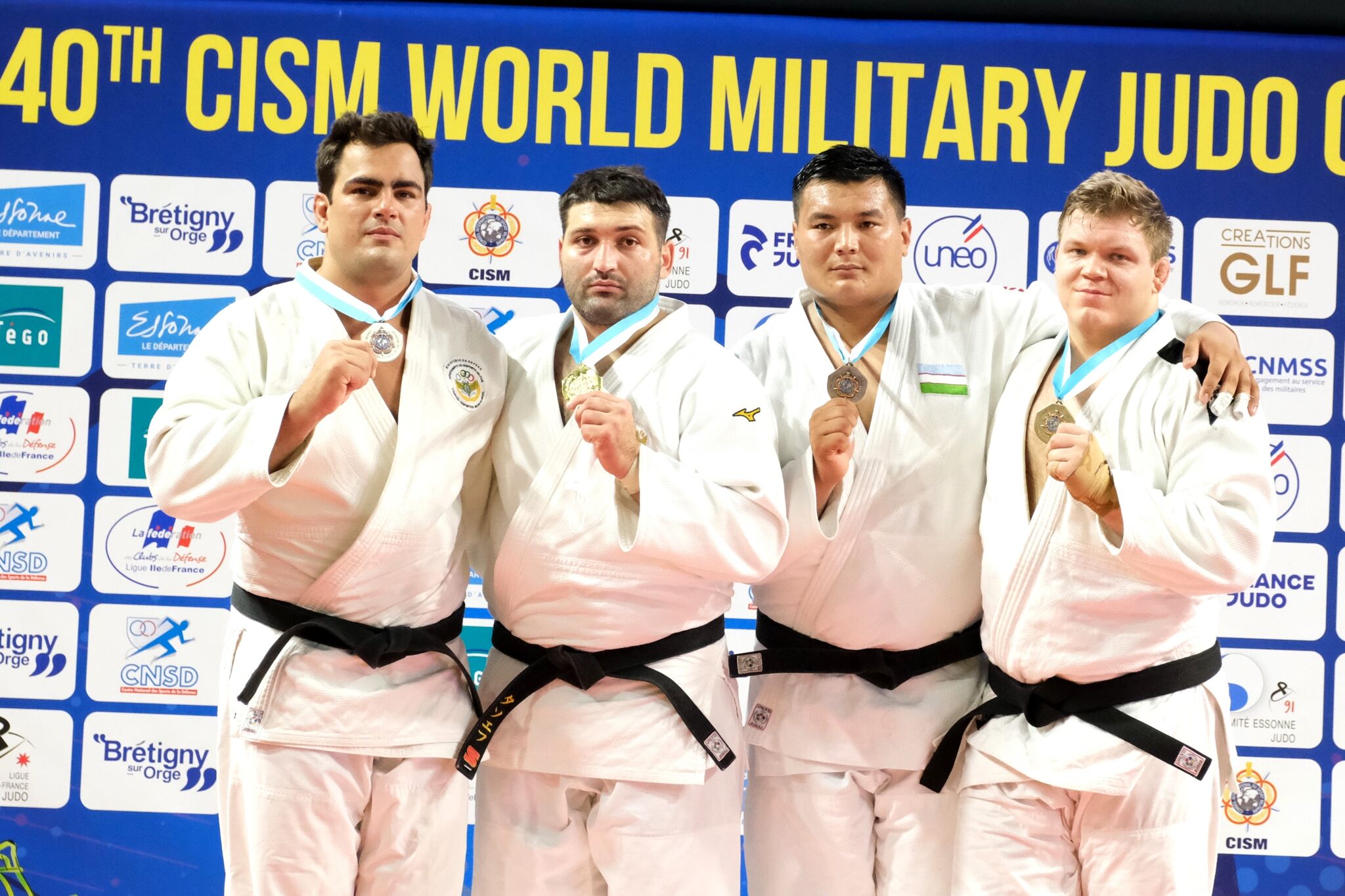 MOURA PEREIRA DA SILVA David (BRA) - TASOEV Inal (RUS) - BAKHTIYOROV Shokhrukhkhon (UZB) - PUUMALAINEN Martti (FIN)
PROGRAMME:
Monday 1/11: Military Para-Judo Event
Tuesday 2/11: Team Competition
Wednesday 3/11: Closing Ceremony
Thursday 4/11: Delegation departure
Download the Press Kit of the event here!
(Source : IJF & CISM Media & Communication Department)