2nd CISM Military World Summer Games - Zagreb (CRO) 1999

SYMBOLIC
Efficient contribution to build the peace in a region devastated by the war
Gathering of 82 Armed Forces on the Sports fields to celebrate peace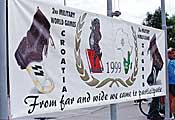 THE MWG IN NUMBERS
6734 participants
82 nations
20 disciplines (2 demonstration sports)
2600 mobilized people
5124 persons involved in security, 600 in food preparation
465 vehicles
250.000 spectators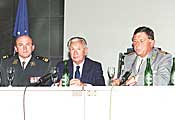 DISCIPLINES
Track and Field (including marathon), Basket-ball, Boxing, Cycling, Fencing, Football/Soccer, Handball, Judo, Orienteering, Wrestling, Swimming (water-polo, diving, lifesaving), Parachuting, Military Pentathlon, Naval Pentathlon, Taekwondo, Shooting, Triathlon, Volley-ball demonstration sports : rowing and Canoe-kayak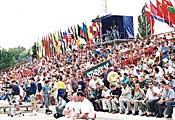 INFRASTRUCTURE
44 different sports facilities in Zagreb and its surroundings
1 accreditation Center, 5 Sports villages
6 hotels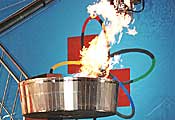 HIGH LEVEL PROTOCOL
Presence of VIP 's :
- Mr Franjo Tudman, President of the Croatian Republic
- Many representatives of the Croatian government and of the city of Zagreb
- Juan Antonio Samaranch, President of the IOC
- Minister of Defence of Ireland and Bosnia Herzegovinia
- Chiefs of Staff or high representatives from many Armed Forces
- President and secretaries of International Sports Federations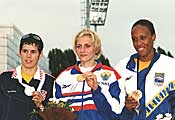 OPENING CEREMONY
30.000 spectators in the Maksimir Stadium of Zagreb
Life broadcasting on Channel 3 of the Croatian National TV
Very high protocol and cultural programme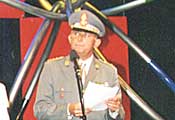 TOP HIGH SPORT LEVEL :
Presence of Numerous Olympic, world and continental champions in all the sports
Many new CISM records established during the Games
Some of the best known athletes present : S. Mutai (KEN), S. Kipkorir (KEN), F. Mori (ITA), C. Kosgei (KEN), P. Dal Soglio (ITA), B. Henry (GER), A. Fadejevs (LAT), D. Bartova (R. TCH.), D. Mulaomerovic (CRO), V. Stepanets (RUS), A. Lebziak (RUS), A. Lezin (RUS), P. Kolobkov (RUS), S. Podznyakov (RUS), V Vezzali (ITA), G. Trillini (ITA), M. Huizinga (NED), A. Mikhailine (RUS), B. Saitiev (RUS), E. Brembilla (ITA), A. Poliakov (RUS), D. Pankratov (RUS), Y. Shan (CHN),Y. Le (CHN), H. Qi (CHN), V?. Novikov (RUS), C. Stearns (USA), D. Bar (GER) P. Valois (FRA), D. Sautin (RUS), Z. Ling (RUS), B. Peng (CHN), M. Nestroev (RUS), M. Logvinenko (RUS), H. Shan (CHN), H. Zlatanov (ITA), S. Dodet (FRA) and so many more...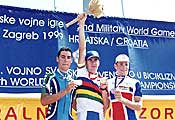 CONTRIBUTIONS
Armed Forces : lodging, organisations of different competitions, transport (athletes, officials, VIP's), security, food and dining facilities, organising committee
Croatian Olympic Committee, Zagreb Sports federations and City of Zagreb, National Sports Federations :existing sport and administrative structures, financing, technical assistance (judges, officials), organisation staff, and so on….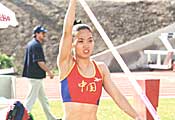 SOLIDARITY ACTIONS
Financial contribution of the IOC
Solidarity flights thanks to South Africa, Cameroon, the Netherlands
Contribution of the Organising Committee to host some delegations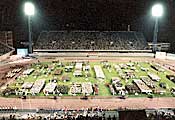 MEDIA
Main Press Center at the Zagreb fair, auxiliary Press center at Mladost, Jarun and Dom Sportova
42 hours TV broadcasting (12 live)
674 people accredited at the Press Center (152 international from 42 countries)
Preparatory national and international press conferences (held twice a week since July 1999)
Special Press Conference with Juan Antonio Samaranch, president of the IOC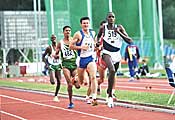 MARKETING
Due to high media coverage a great number of sponsors were interested in PR possibilities in sponsoring the Games : 44 different sponsors (most of them in kind)
Merchandising and by-products