5th CISM Military World Winter Games Lucerne (SUI) 2025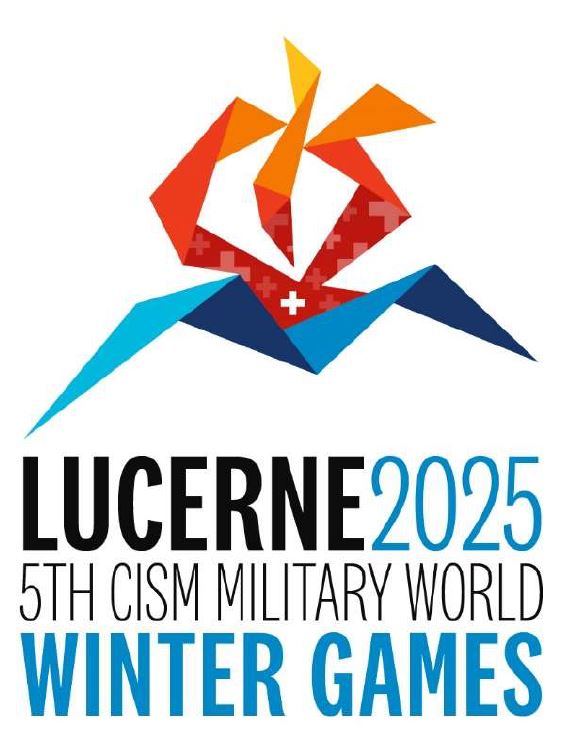 5th CISM Military World Winter Games LUCERNE 2025 - Presentation
The 2025 CISM Military World Winter Games will be taking place in Switzerland. On Monday, 28 June 2021, the Board of Directors of the International Military Sports Council (CISM) approved Switzerland as the host of the 5th CISM Military World Winter Games. More than 1,000 athletes from all over the world will be taking part in this major sporting event. The Games will be held from 23 to 30 March 2025 in Central Switzerland and in the Goms region. Switzerland will be placing particular emphasis on sustainability and make this the first ever carbon-neutral Military World Games.
As the host city of the Military World Winter Games, Lucerne will also be the venue for several of the competitions being held. Alpine sports competitions will be carried out in the Engelberg-Titlis and Nordic sports competitions in the Andermatt / Realp / Goms regions. In addition to several Alpine and Nordic winter sports disciplines, competitions will also be held in Alpine skiing, orienteering, mountaineering and cross-country skiing.
Switzerland will also be organising parasports competitions, so that soldiers who have been injured on missions can take part in the Games. The event will be financed as part of the regular armed forces budget with a cost ceiling of CHF 13 million. The Federal Council was informed of the CISM's decision at its meeting on 30 June 2021.
A MODERN AND SUSTAINABLE MAJOR SPORTING EVENT
The organising committee will be placing a special emphasis on sustainability. Switzerland will achieve its goal of hosting the first ever carbon-neutral Military World Games by using existing infrastructure, short transport routes and public transport wherever possible. Any unavoidable CO2 emissions will be offset.
The Department of Defence, Civil Protection and Sport (DDPS) submitted its bid in September 2020. As no other countries applied to host the Games, the CISM's Board of Directors approved Switzerland's bid.
Hosting the Military World Winter Games will create a long-lasting legacy for military sport in Switzerland. The armed forces already play an important role in the Swiss sports landscape: through their promotion of top-level sports, they have made it possible for numerous talented athletes to pursue professional careers in their disciplines. The competitions at the Military World Games will be organised in close cooperation with national sports associations. The event is sure to be met with enthusiasm by the population, and will provide a strong impetus for future sports promotion.