Lucerne2025.ch has just gone live, marking the commencement of a 555-day countdown to the 5th CISM Military World Winter Games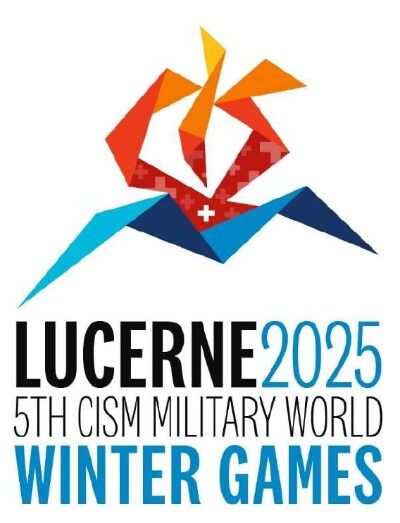 LUCERNE (SUI) - This eagerly anticipated website launch Lucerne2025.ch signifies the kick-off for the 5th CISM Military World Winter Games, scheduled to take place in Switzerland from March 23 to March 30, 2025, under the theme "Military Champions for Peace." Lucerne will be the proud host city, welcoming over 1,500 athletes hailing from more than 40 nations.
The 5th Military World Winter Games will showcase a diverse array of sports amidst the breathtaking winter landscapes of Engelberg-Titlis, Andermatt, and Goms. Competitors will vie for prestigious medals in disciplines such as alpine skiing, snowboarding, parachute skiing, cross-country skiing, biathlon, ski mountaineering, patrol skiing, cross-country running, and sport climbing.
This extensive range of sports ensures inclusivity, allowing nations without a winter sports tradition to actively participate. Moreover, there's a focus on para-sports to enable injured soldiers to partake in the Games, emphasizing the Organising Committee's dedication to integrating disability sports and promoting inclusivity in sporting events, aligning with CISM's mission to advance para-sports recognition and provide meaningful athletic opportunities for physically challenged soldiers.
The Swiss Delegation to CISM, responsible for organizing the 5th Military World Winter Games, is committed to delivering high-quality sports competitions, promoting environmental awareness, and fostering international camaraderie among CISM nations.
These Games are a soldier-led initiative, backed by the unwavering support of the Swiss Armed Forces, without which this event would be inconceivable.
Entire units are dedicated to the Games, undertaking crucial responsibilities such as ensuring safety, preparing the venues, and assisting with infrastructure setup and teardown.
They also handle catering, transportation, and various other essential tasks. National sports federations collaborate with the organizers on sport-specific aspects, while inclusion partner PluSport offers comprehensive support for para-sports.
You can immerse yourself in the passion for winter sports and remarkable military achievements at #Lucerne2025!
For further details and event updates, please visit the website www.lucerne2025.ch.
(Source: WINOC 2025 Lucerne)