49th WMC Swimming – Rio de Janeiro (BRA) - Update – Competition Day 1
Brazilian Hegemony and six CISM World Records broken!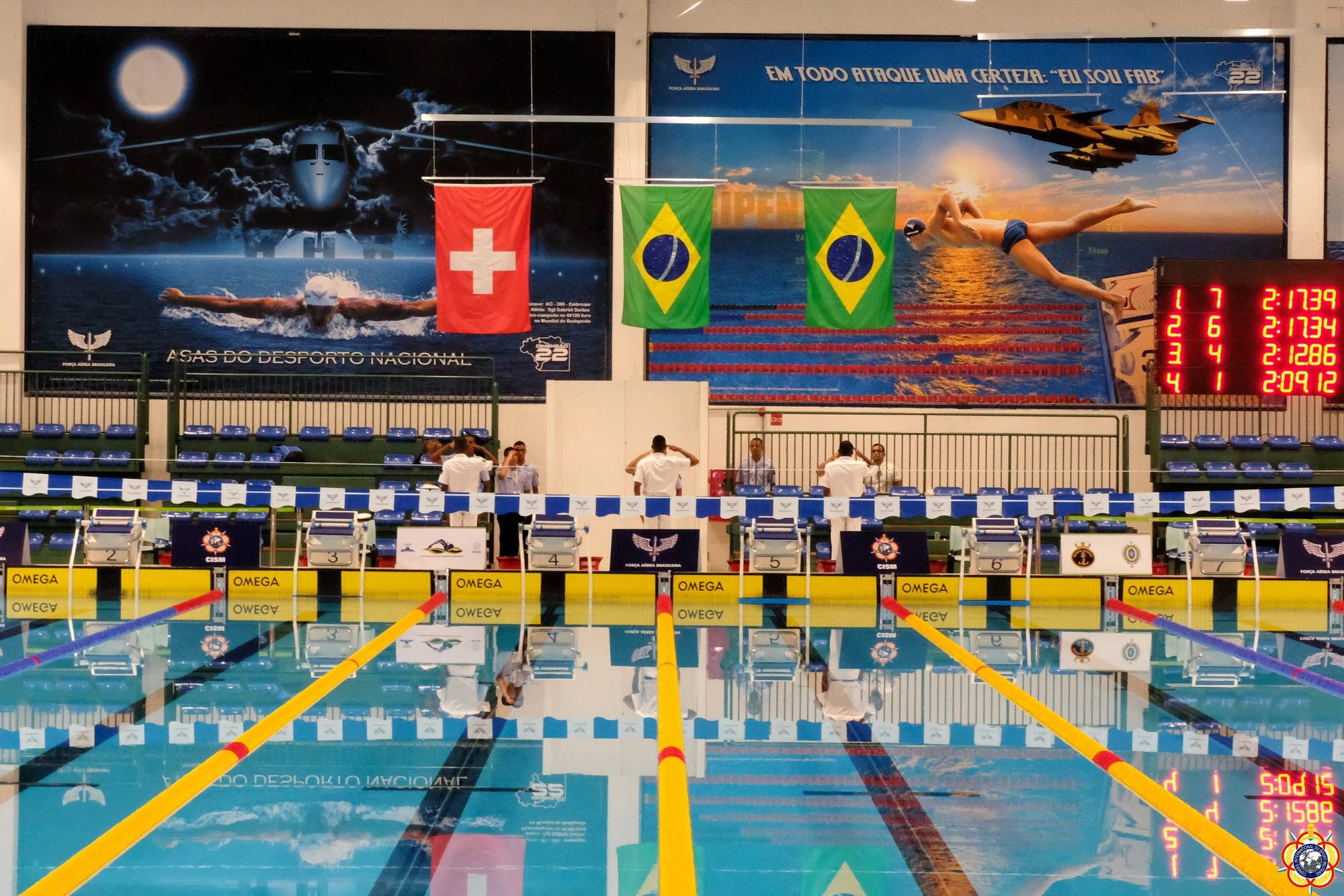 RIO DE JANEIRO (BRA) – The first day of competition of the 49th WMC Swimming took place yesterday, December 12, in Rio de Janeiro, Brazil, where 131 athletes from 12 countries gathered for an high-level competition. For this first day, the local fans attended a real demonstration from the Brazilian delegation with nine medals (five gold medals, three silver and one bronze medal). Moreover, 6 CISM World Records were broken yesterday: Sergeant Leonardo de Deus (BRA) in 200 m Butterfly Male (1:55.61), Private Maria Temnikova (RUS) in 200 m Breaststroke Female (2:27.31), Sergeant Anton Chupkov (RUS) in 200 m Breaststroke Male (2:09.12), Sergeant Etiene Pires Medeiros (BRA) in 50 m Backstroke Female (28.04), Private Tomasz Polewka (POL) in 50 m Backstroke Male (25:01) and the Brazilian relay composed by Sergeant Luiz Altamir Lopes Melo, Sergeant Leonardo de Deus, Sergeant Pedro Henrique Silva Spajari and Private Guilherme P. Da Costa in 4 x 200 m Freestyle Male relay (7:17:92).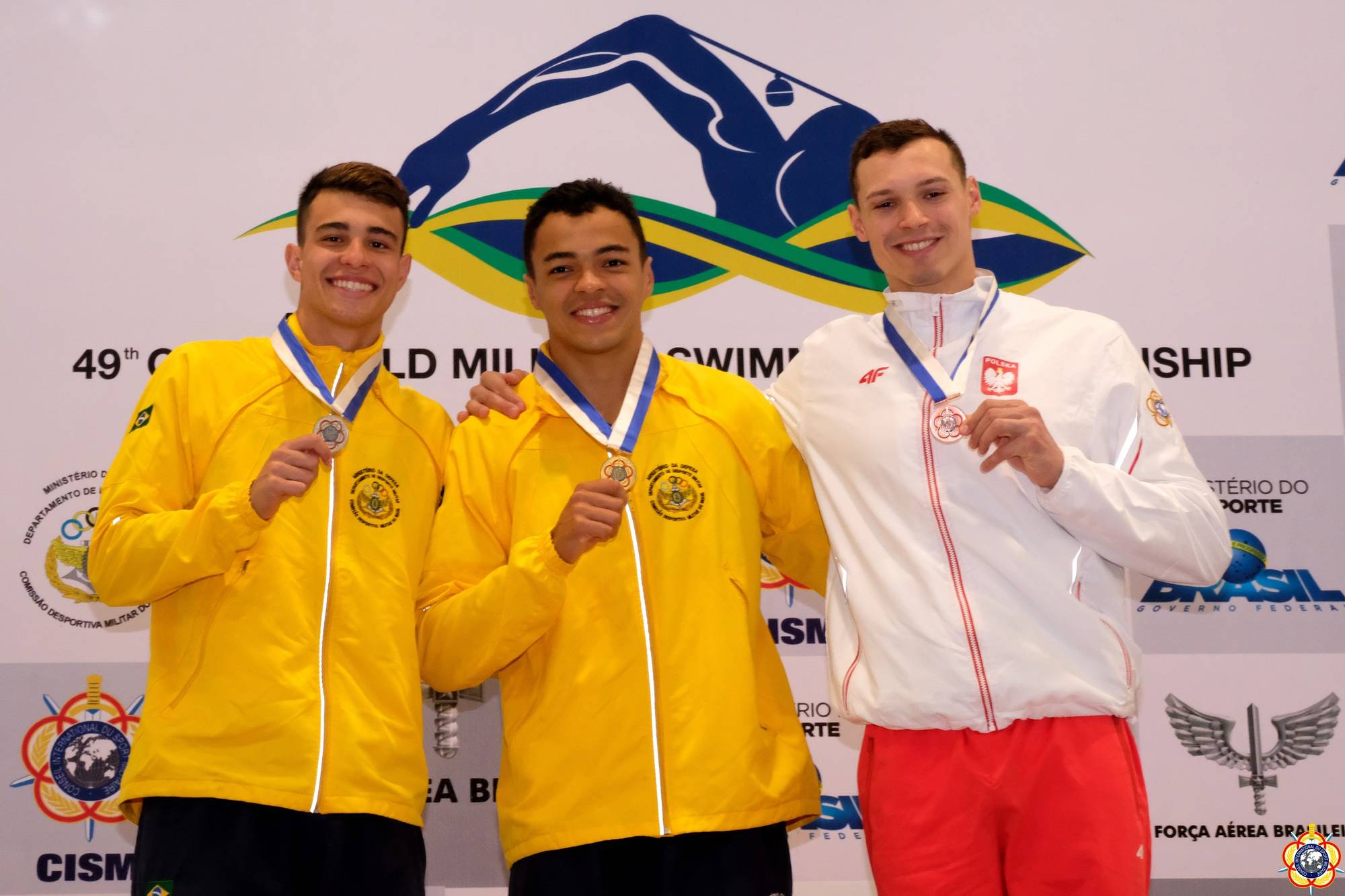 The highlight of the night was the victory of the Brazilian Sergeant Leonardo de Deus who won the gold medal and broke the CISM World record in the 200m Men's Butterfly event. In the 200m Women's Butterfly final, the Russian Svetlana Chimrova was faster than Svenja Zihsler (GER) and Paula Zukowska (POL), the silver and bronze medalists.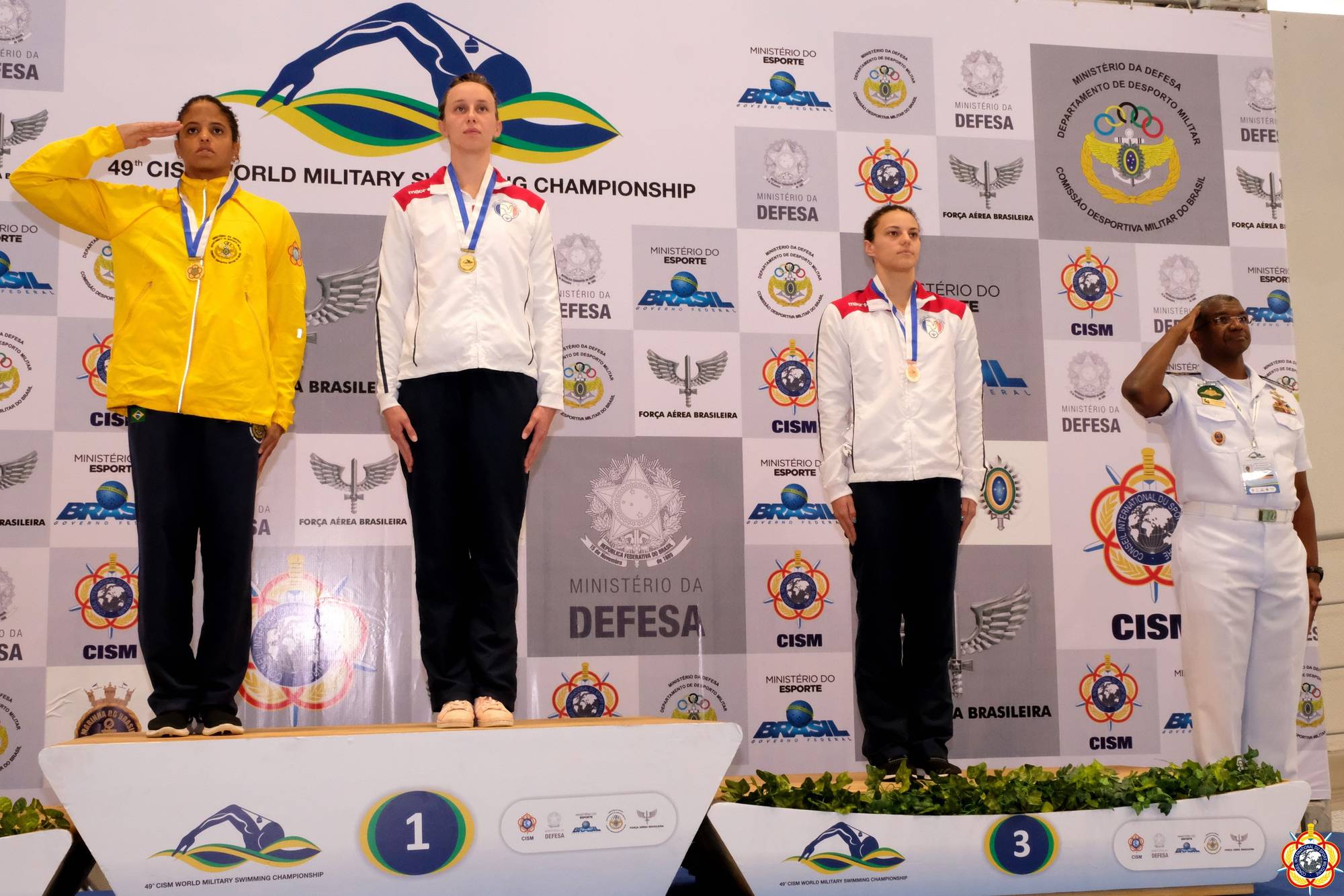 The Brazilian delegation took the two first place of the 50m Male Freestyle events as Sergeants Gabriel Santos and Pedro Spajari conquered respectively gold and silver. Sergeant Etiene Medeiros was also celebrated as she climbed to the top of the podium twice with a new CISM world record: Medeiros and Lena Bousquin (FRA) tied for the first place in the 50m freestyle while Medeiros easily won the 50m backstroke Female event (28.04 in the 50m backstroke event).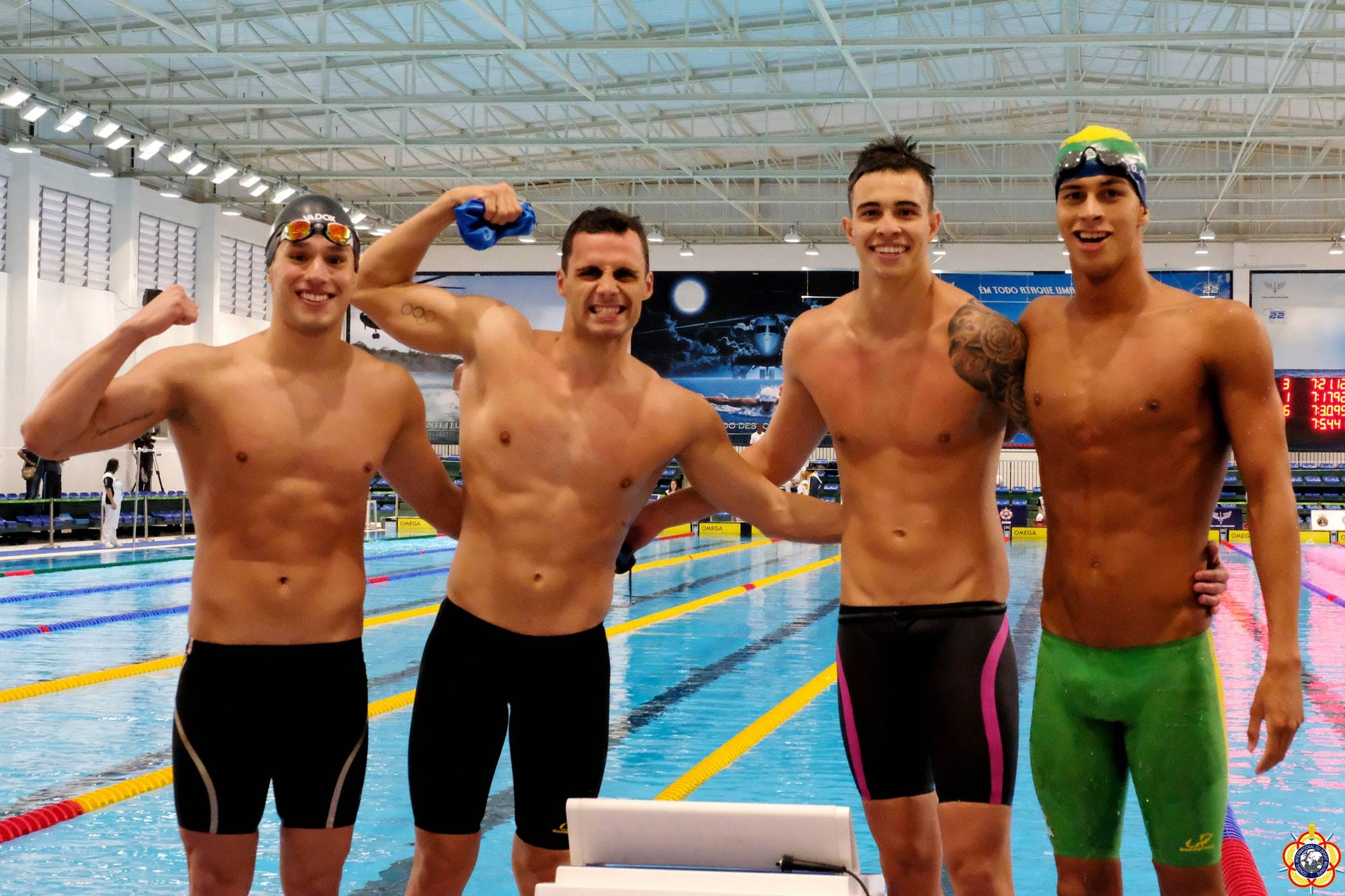 The Brazilian 4x200m relay, composed of Luiz Altamir, Leonardo de Deus, Pedro Spajari and Guilherme Costa, won the last Brazilian gold medal and simultaneously broke the military world record with the time of 07: 17.92 sec.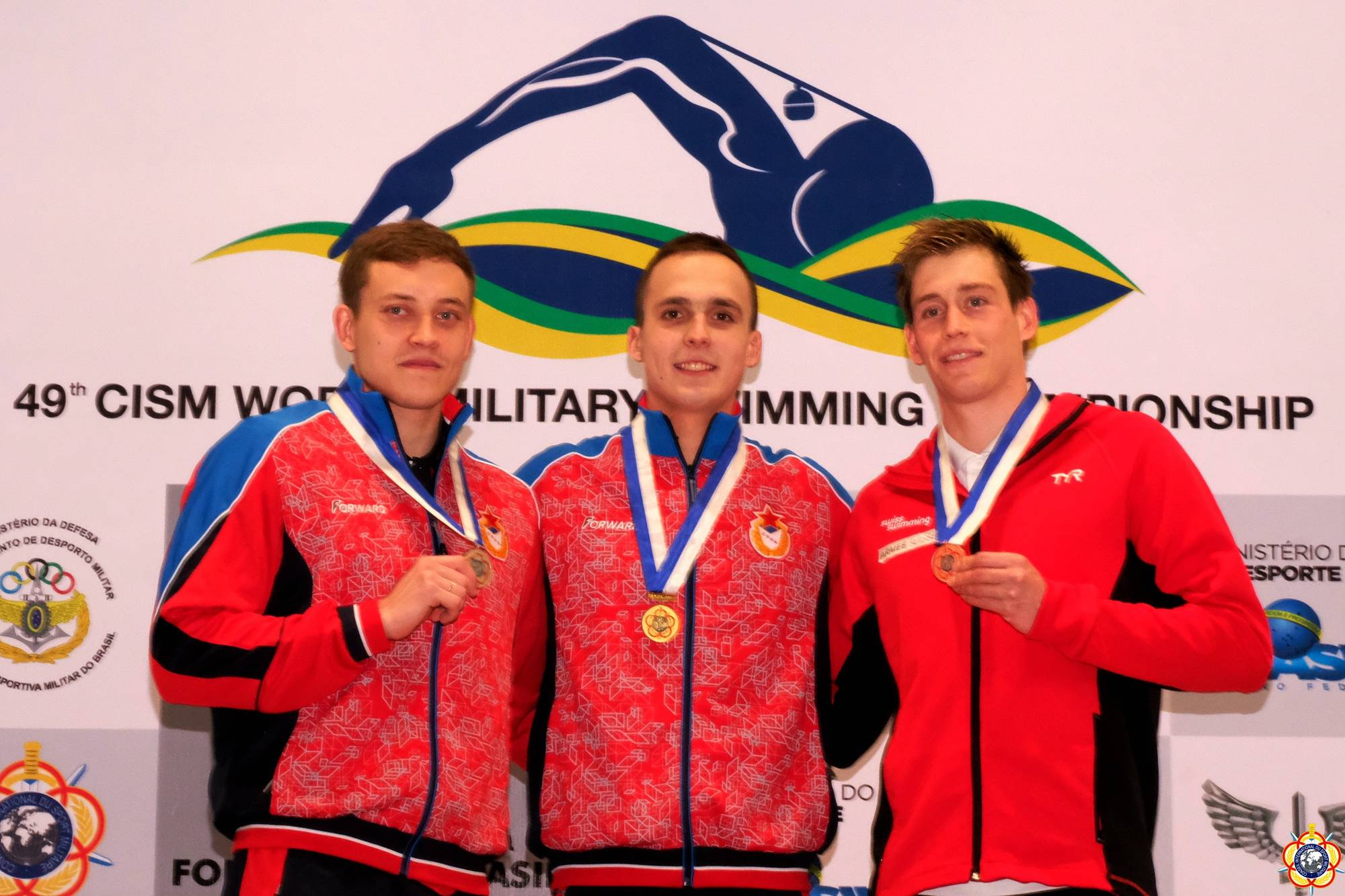 Russia and Poland shared out the last three gold medals of the day with two titles for the Russian swimmers Maria Temnikova and Anton Chupkov respectively in the 200m Breaststroke Female and Male events while Tomasz Polewka became the new military world champion in the 50m backstroke male event!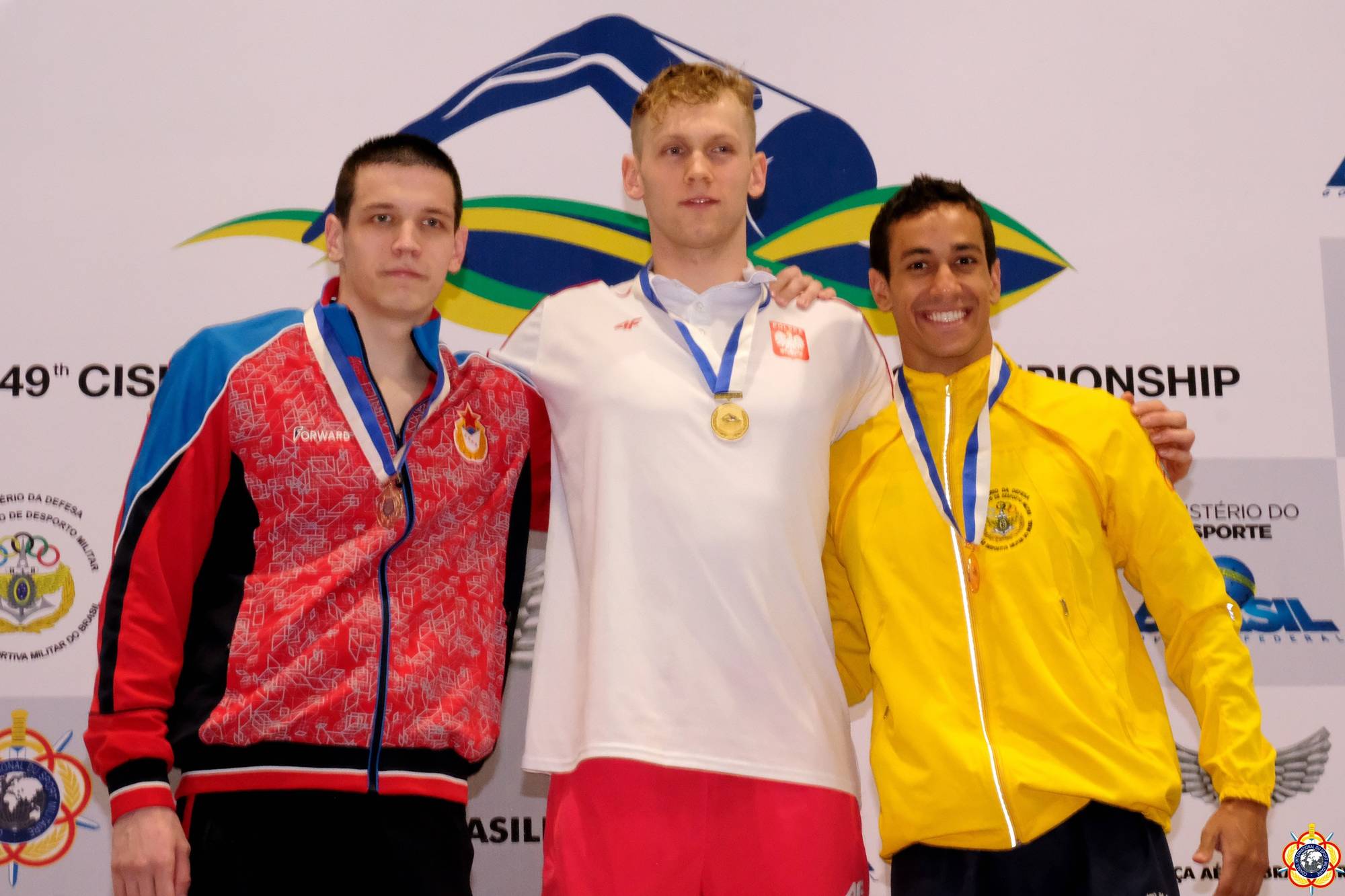 For more information about the 49th WMC Swimming, check the OC Official Website.
The 49th World Military Swimming Championship is available in livestreaming on the Força Aérea Brasileira Facebook Page.
All the pictures are available on the CISM Flickr Account.
(Source: OC Website)
(Pictures: Eddy Kellens, CISM Photographer)