Day 3 of CISM Parachuting Tournament and 55th Spanish Military Championship witnesses intense competition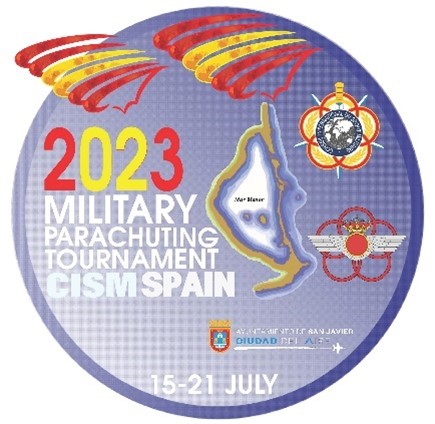 SAN JAVIER (ESP) - As the sun rose over San Javier airbase on the third day of the CISM Parachuting Tournament and 55th Spanish Military Championship, the wind finally relented, setting the stage for a day of thrilling aerial performances. The Meet Director seized the opportunity to prioritize the Accuracy Landing event, while also ensuring the completion of the first round of the Style event, which had been hampered by clouds the previous afternoon.
In the heart-pounding Accuracy Landing event, participants aimed to touch down precisely on or as close as possible to the dead center disc (DCD) with a diameter of a mere 2cm, roughly the size of a 10-cent euro coin. For landings up to 16cm off the DCD, an Automatic Measuring Device (AMD) electronically measured the distances. Beyond that range, judges manually scored landings: 17 for landing on the black control pad, up to about 70cm from the DCD; 18 for landing on the blue tuffet (within 2.5m of the center); and 19 for landings beyond the tuffet.
The competition for top positions was fierce, with just one or two centimeters potentially making the difference between a gold medal and a fourth-place finish. The live scores were available for viewers to track the nail-biting results throughout the event on this link.
Additionally, during the day, the male Style Event concluded its second round at the second dropzone in San Javier. The top three male athletes, based on their combined scores from both rounds, were as follows:

In the female Style competition, the current top three athletes after two rounds were:

The Formation Skydiving event also made substantial progress, with results from three rounds on day 2 available at https://intimescoring.com/Meet?dbid=71&mid=72&smid=0.
Combining the results from all three disciplines - Accuracy, Style, and Formation - the crucial overall classifications began to take shape, albeit with only completed rounds considered so far (5 Accuracy, 2 Style, 3 Formation). Currently leading the individual overall standings (Accuracy + Style) are:
Female:

Male:

In the highly anticipated team overall standings, the current leaders are:
Male: Czech Republic with 7 points, closely followed by Spain with 8, and Germany in third place with 11 points.
Female: Korea holds the top position with 4 points, followed by Morocco with 6, and Spain with 8 points.

For the comprehensive results of day three, please refer to the attached male and female scorecards. The competition continues to intensify as the event progresses, promising more adrenaline-filled moments in the days to come.
Stay tuned for further updates and breathtaking performances from the world of parachuting.
(Source: CSC Parachuting)