Meet our PCSC - Episode 2 - Lieutenant Margherita Magnani, PCSC Track & Field (ITA)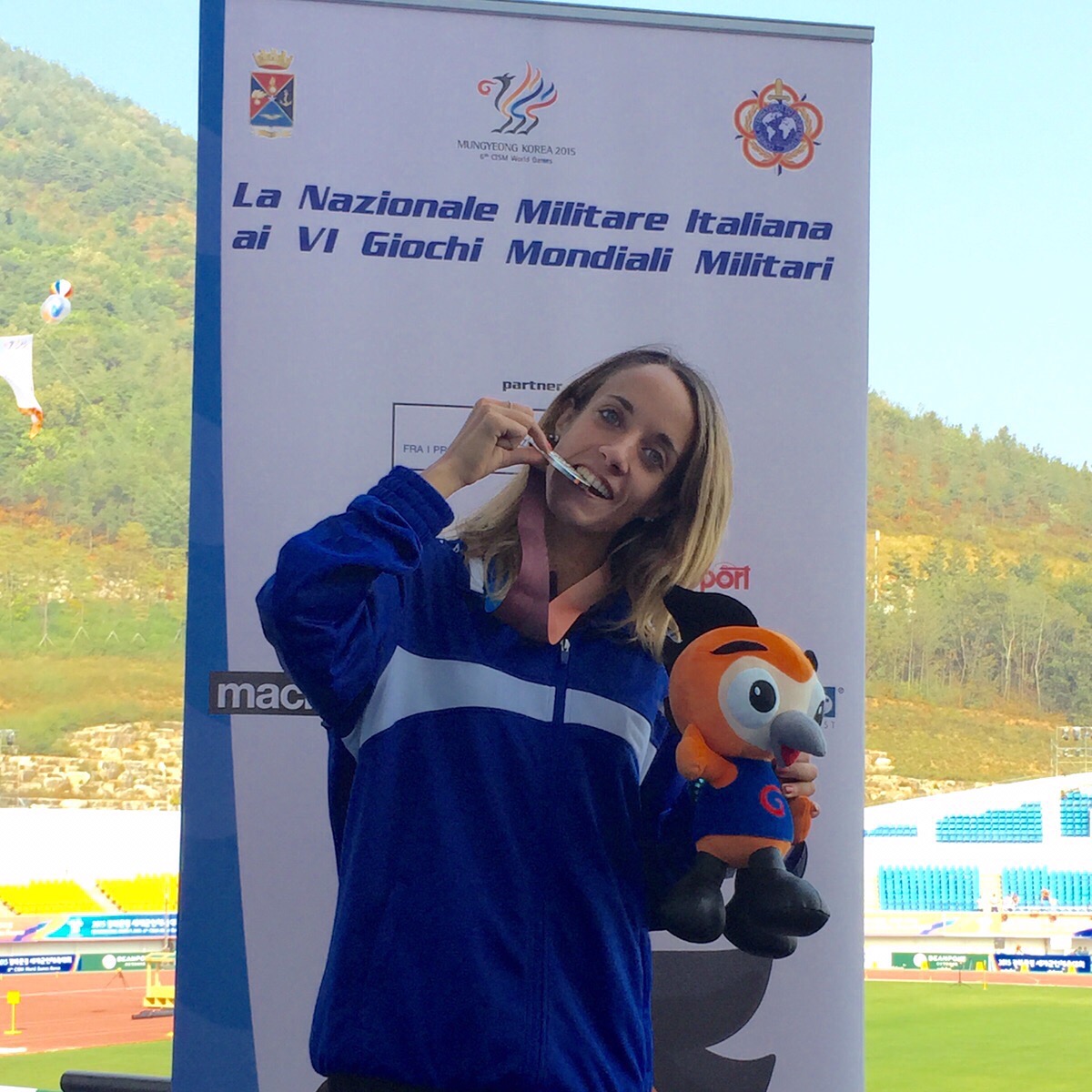 At the CISM World Military Games in Mungyeong (KOR) in 2015
BRUSSELS (BEL) - Today we meet our Italian PCSC Track & Field, Lieutenant Margherita Magnani, also former middle-distance runner. 2013 was the year of her statement, also at international level. Margherita Magnani won 7 national title and her personal best is 4'06"05 on 1500m, 2'02"84 on 800m, 8'51"81 on 3000m and 15'25"20 on 5000m. She also has 20 national caps and was an Olympic athlete in Rio 2016 (1500m). She won a bronze medal at the Universiade, a bronze medal at the European Team Championships, a silver medal at the CISM Military World Games in 2015 and was the Italian national record holder on 1000m indoor !
CISM HQ: Dear Margherita, nice to see you again. First question for you: how did you become a professional athlete?
Margherita Magnani (MM): "It all started when I was 12 years old. I started to win school running competitions without any specific training. Then at the age of eighteen, I started training regularly for middle distance races and started going to the track. Throughout my career, I have competed at a high level, ranging from 800 meter races to 10K races."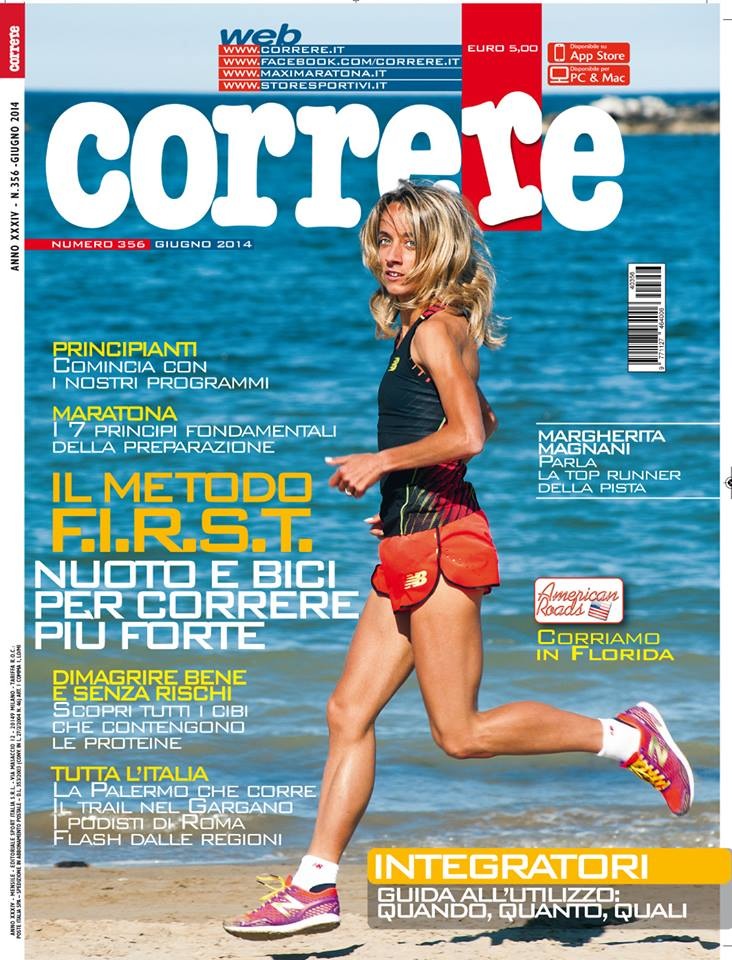 CISM: What is the most memorable moment in your career?
MM: "At the age of 20, I represented Italy for the first time in athletics. But it was when I joined the military force of the Guardia di Finanza that my career really took off. I had the chance to increase my training pace and live the sport in a professional way, training twice a day. For about 12 years, I had a career as a professional military athlete and competed in many events, including the 2016 Rio de Janeiro Olympics and five editions of the World Athletics Championships."
CISM: What awards and honors have you won?
MM: "I have been seven times Italian champion in the 1500 and 3000 meter distances, as well as national record holder in the 1000 meter. I have also won medals at the European Championships, the World University Games (Universiade) and the World Military Games."
CISM: What is your best memory as a middle-distance athlete so far?
MM: "My participation in the 2016 Rio de Janeiro Olympics remains my best memory. It was a unique experience, the realization of a dream I had for a long time. For any athlete, qualifying for the Olympics is one of the most important aspirations. For me, it was the highlight of my career. The Olympic spirit was palpable in the stadium and in the Olympic Village, which made the experience even more extraordinary. That incredible emotion is still etched in my heart and is even tattooed on my skin. It was an honor to represent my country and compete against the best athletes in the world. And yes, another unforgettable memory was my participation in the World Championships in London in 2017. The stadium, which had already hosted the Olympics in 2012, was packed with an electric atmosphere. It was an honor to compete in such a setting and an experience I will always cherish."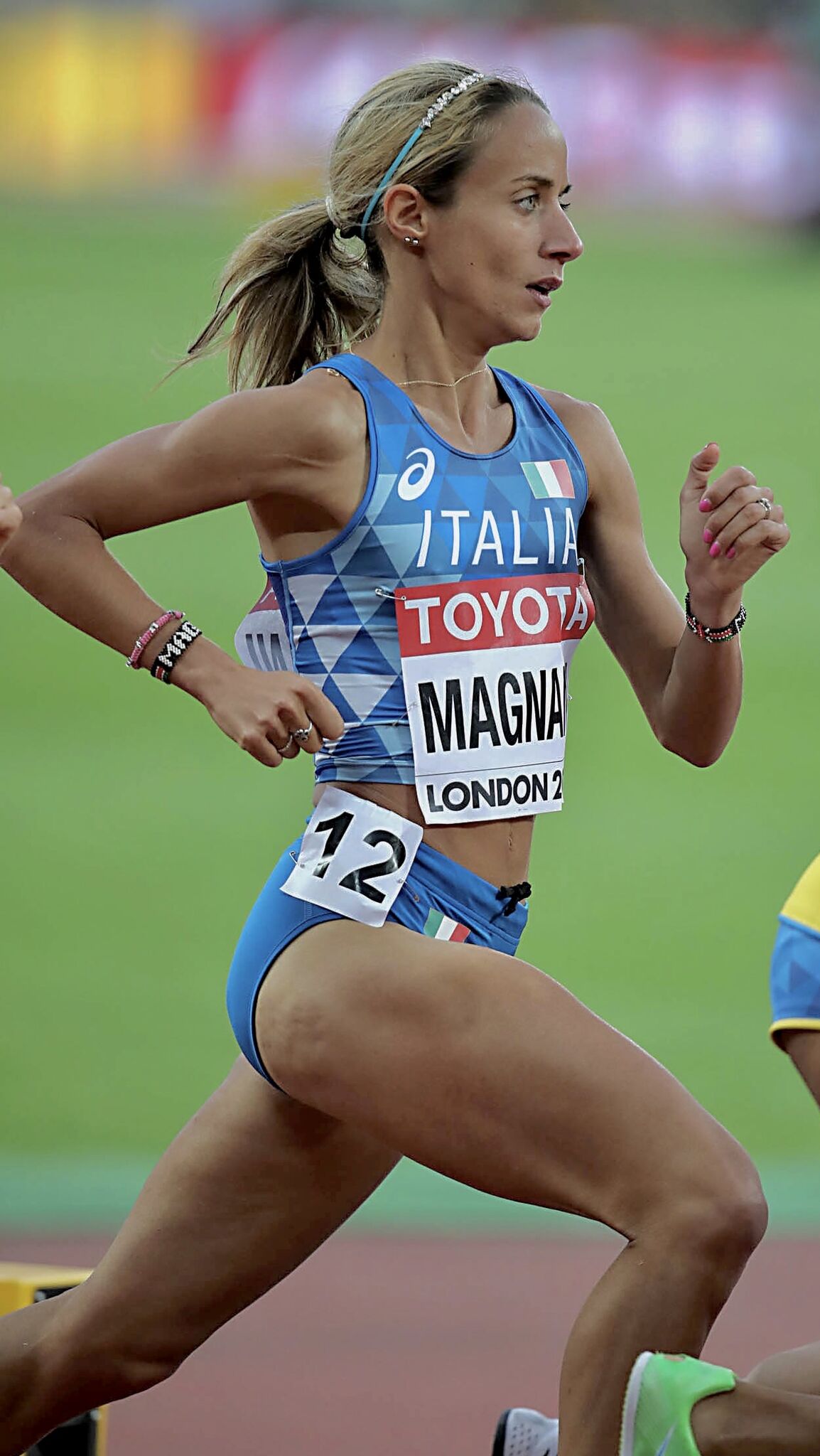 At the London World Championships in 2017
CISM: Did you compete in any military competitions before becoming a PCSC?
MM: "Yes, I competed in the World Military Games in Rio de Janeiro in 2011 and in Mungyeong in 2015. In 2011, I finished fourth in the 1500-meter distance due to an injury that had weakened me physically. The competition was particularly tough, and the victory was won by Nancy Lagat, a Kenyan athlete who had already won an Olympic gold medal in the same distance. In 2015, at the World Military Games in Mungyeong, I won a silver medal in the same distance. Although the gold was won by another Kenyan athlete, I was very satisfied with my performance, and I have very good memories of this event. I was able to represent my country and the Italian military with pride. My last participation in the CISM Events was in 2017, when I also represented Italy at the World Military Cross Country Championship in Hungary. I even won the bronze medal with the Italian women's team. Participating in military competitions is a very different experience than regular sports competitions, but it is also very rewarding to be able to represent your country and the armed forces."
CISM: Can you tell us about a difficult moment you experienced as an athlete?
MM: "My athletic career has been marked by several difficult moments related to injuries. Intensive training twice a day, almost 7 days a week, for 365 days a year, inevitably puts pressure on the human body and leads to injury. It is part of the job. One of the biggest disappointments came in the summer of 2018, when I was ready to compete in the European Championships in Berlin. I was in the best physical shape of my life then, but two weeks before the race I injured my Achilles tendon and was forced to withdraw from the competition. In 2019, I continued to suffer from the Achilles tendon, which led me to undergo surgery. Unfortunately, even after the surgery, I continued to have tendon issues, which would have required me to undergo surgery again."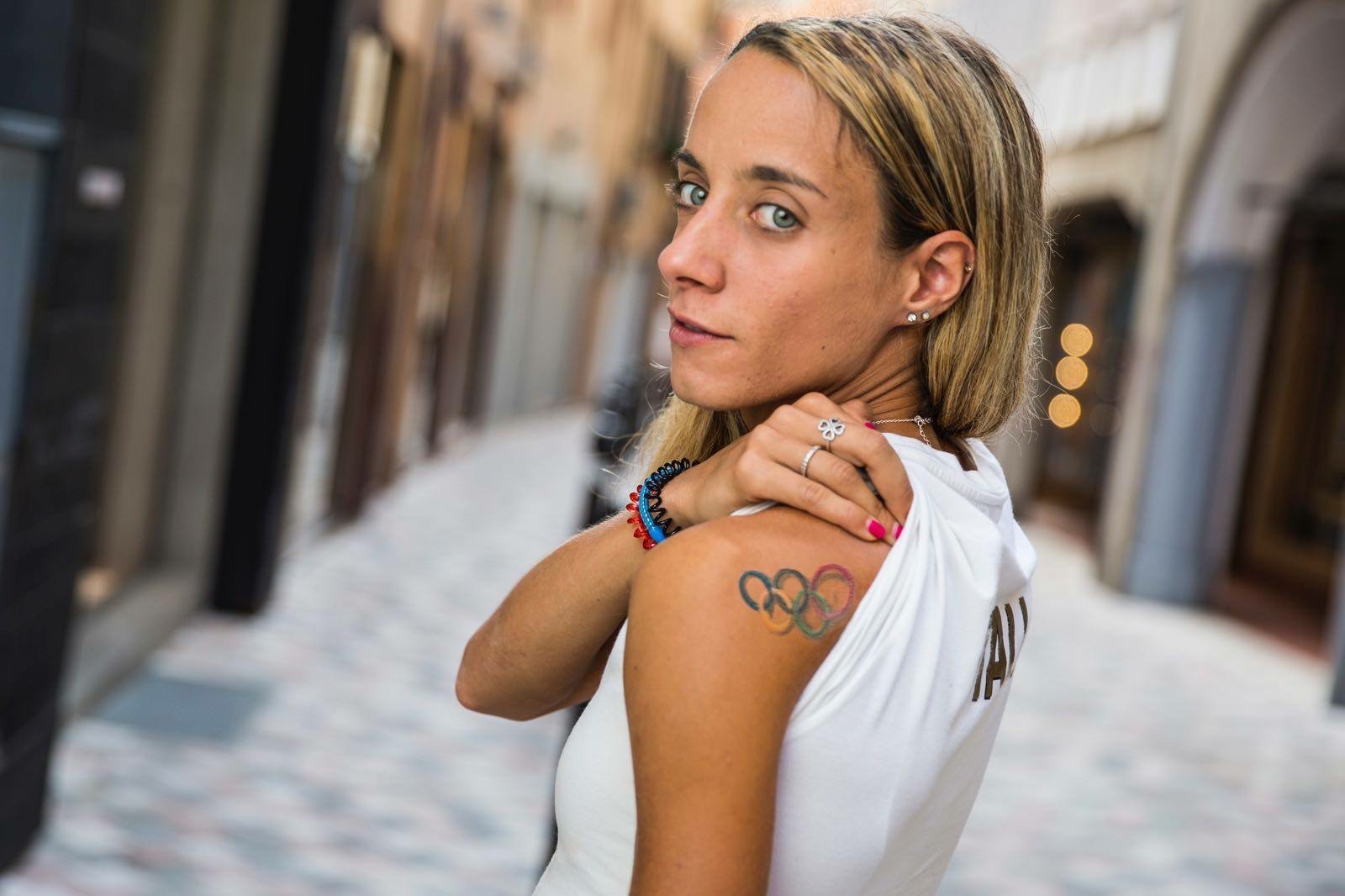 Margherita and her Olympic tattoo
CISM: How did you manage to overcome this difficult period?
MM: "After several months of recovery, I resumed training because my goal was to qualify for my second Olympic Games (Tokyo 2020). Unfortunately, even after the operation, I continued to have tendon problems, which would have forced me to undergo another operation. So, at the age of 33, I decided to end my professional military sports career. I had won a very selective military competition and had the opportunity to start my career as an officer/commander in the Italian armed forces. I decided to close this chapter of my life without any regrets. As they say, everything has a beginning and an end."
CISM: Can you tell us about your career path and how you became a member of the CISM Track & Field Committee (CSC) ?
MM: "Starting in 2018, I joined the CSC Track & Field as a member. The following year, I was appointed as the PCSC for the World Military Games in Wuhan. I took this opportunity thanks to the former chairman of the committee, Qatari General Suleiman, who offered me this incredible chance. Having worked closely with CISM for several years, I was familiar with the system thanks to my previous Commanders, Brigadier General Gianni Gola, who served as CISM President from 1998 to 2010, and Colonel Vincenzo Parrinello, who served as PCSC Track & Field for eight years."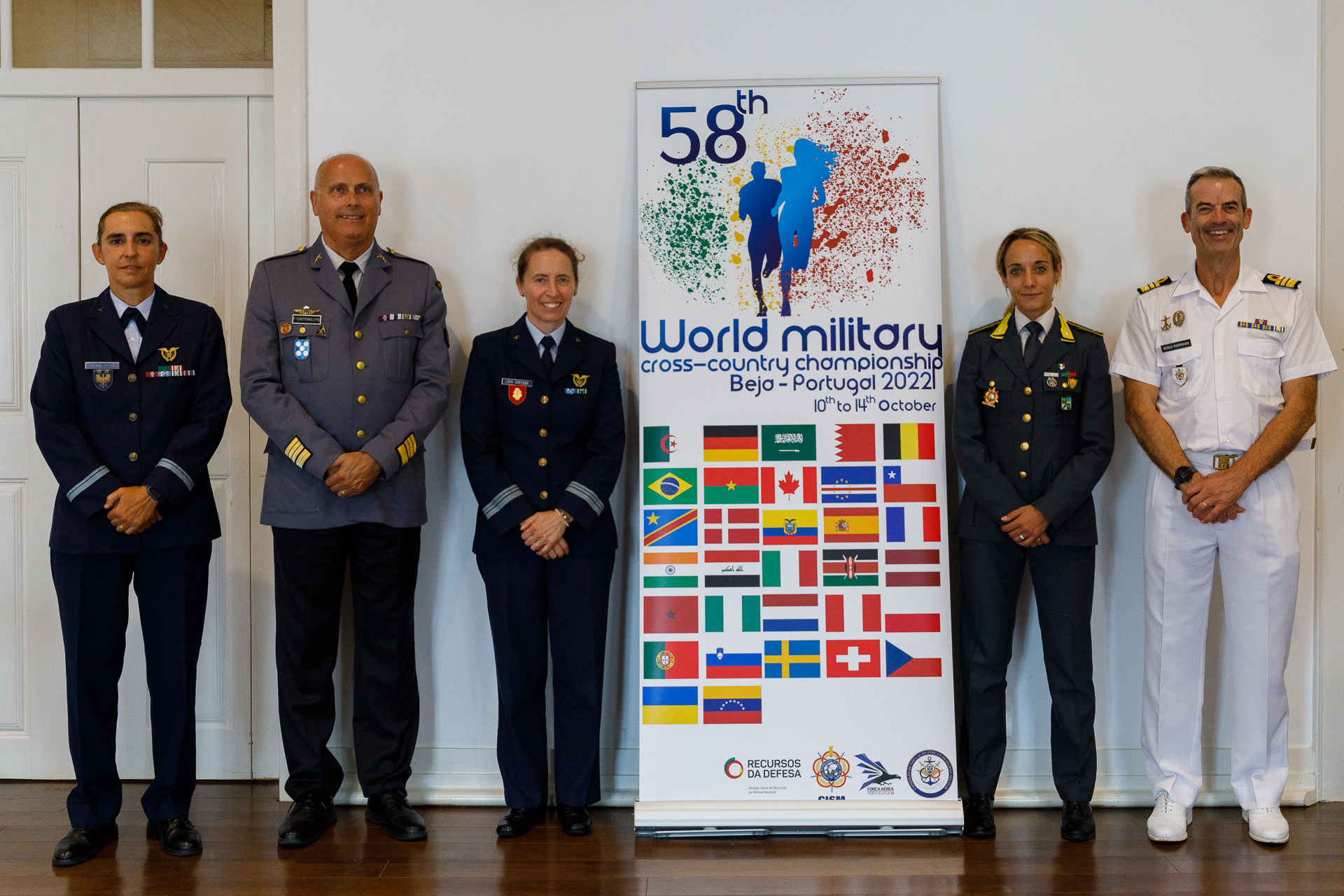 At the Press Conference of the 58th WMC Croos-Country
CISM: And how did you become PCSC Track & Field?
MM: "In 2021, General Suleiman retired and the PCSC position became vacant. In agreement with the Italian military delegation, I decided to apply to become president, and I was elected with the highest number of votes. My start as PCSC has been both great and difficult, especially during my first year in 2021. We had to deal with the challenges of the post-pandemic period and restart races and activities, reorganize championships, and set schedules, which was not easy."
CISM: Can you describe the main responsibilities and obligations of your role as PCSC?
MM: "As a PCSC, I have many responsibilities. First, I am responsible for the management and development of the sport for military athletes. Secondly, I oversee the technical operation of the World Military Championships and make sure everything runs smoothly. Finally, I also have to keep the sport's rules and regulations up to date while promoting the sport around the world. It's a demanding job, but very rewarding."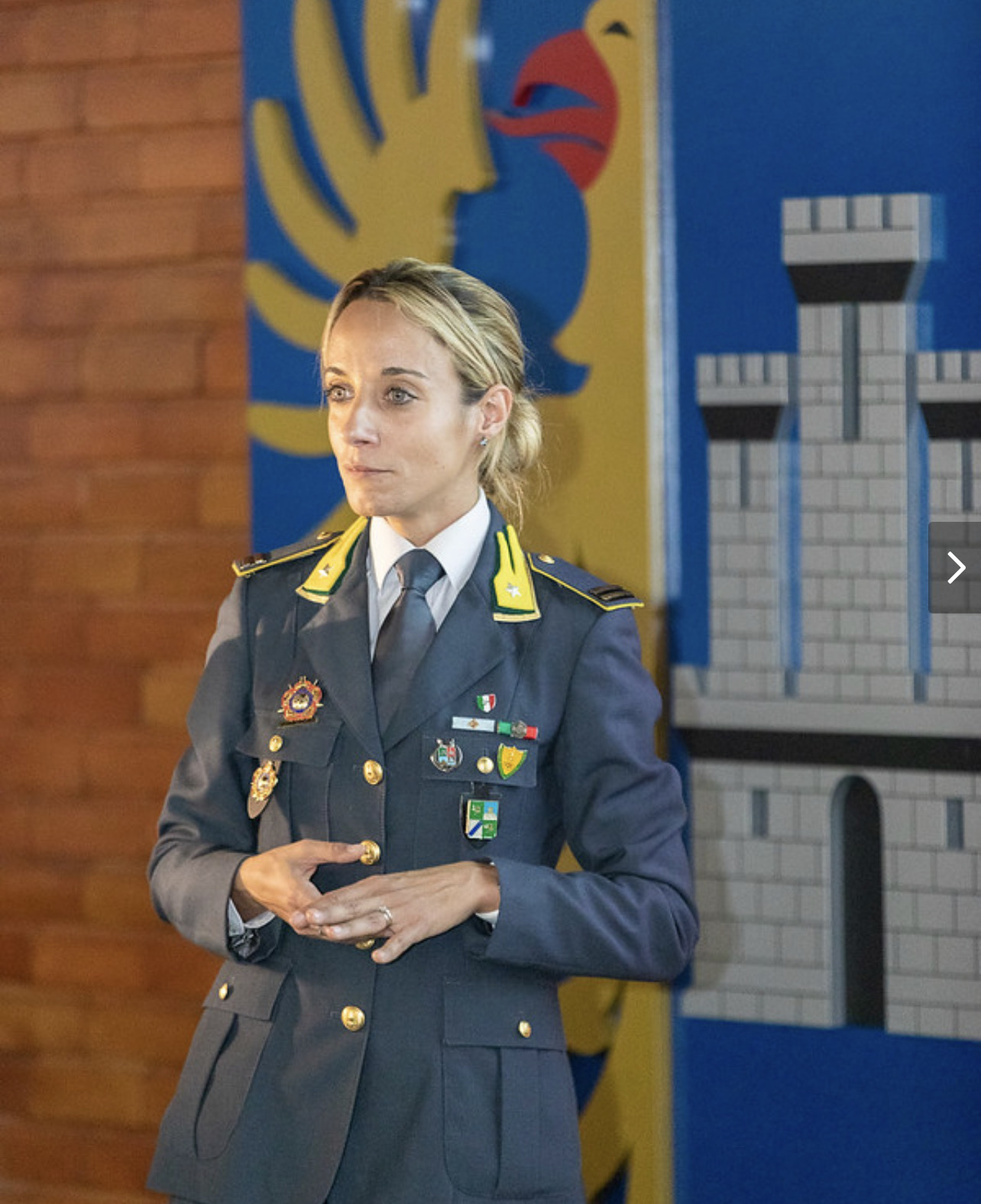 At the Press Conference of the 58th WMC Croos-Country
CISM: How do you manage your busy schedule as a commander and your commitment as a PCSC?
MM: "I currently work in the Guardia di Finanza, my military force. I am the commander of 200 cadets in one of our military schools located in the city of L'Aquila, in central Italy, about 100 km from Rome. I believe it is simply a matter of organization and planning. Although my job is very demanding because I am responsible for the complete management of the lives of young women and men between the ages of 19 and 24 who are entering the military for the first time, I try not to miss anything about the activities of PCSC. I try to keep my commute well organized with schedules and meetings thanks to new technology and the ability to do meetings by VTC."
CISM: Do you think your work as a PCSC is easily compatible with a high-level career?
MM: "I think it is very possible. Although my job is very demanding, I love the challenge and strive to balance my two commitments. My goal is to help them become good soldiers and good people, while still being involved in the PCSC. I think it's a matter of organization and willingness."
CISM: Can you explain how you work with World Athletics and national federations to develop the promotion of athletics and CISM events?
MM: "Since 2020, I have been appointed Federal Advisor of the Italian Athletics Federation and I sit on the Board of Directors. In Italy, military sport is crucial because most of the athletes of the national athletics team are members of the armed forces or the police, which facilitates an excellent synergy and participation. This same collaboration is present in many other countries, such as Portugal, where the last WMC Cross Country was held recently. On the other hand, my objective with World Athletics is to sign a memorandum of understanding as soon as possible and to organize a meeting with the president of the federation (Lord Sebastian Coe) and the CISM President. I am convinced that this will be possible in the summer of 2023."
CISM: What new technologies and innovations have been introduced into athletics and how has this affected your work as a technical delegate?
MM: "The most significant change in the athletics market recently has been the introduction of carbon technical shoes. All brands have now introduced them and strict rules have been put in place to ensure that only authorized shoes are used during competitions. Before each competition, the judges check the shoes to make sure they are correct. The introduction of these shoes has resulted in a marked improvement in performance, with many historic world records being rewritten. Unfortunately, in my years of competition, these shoes did not yet exist!"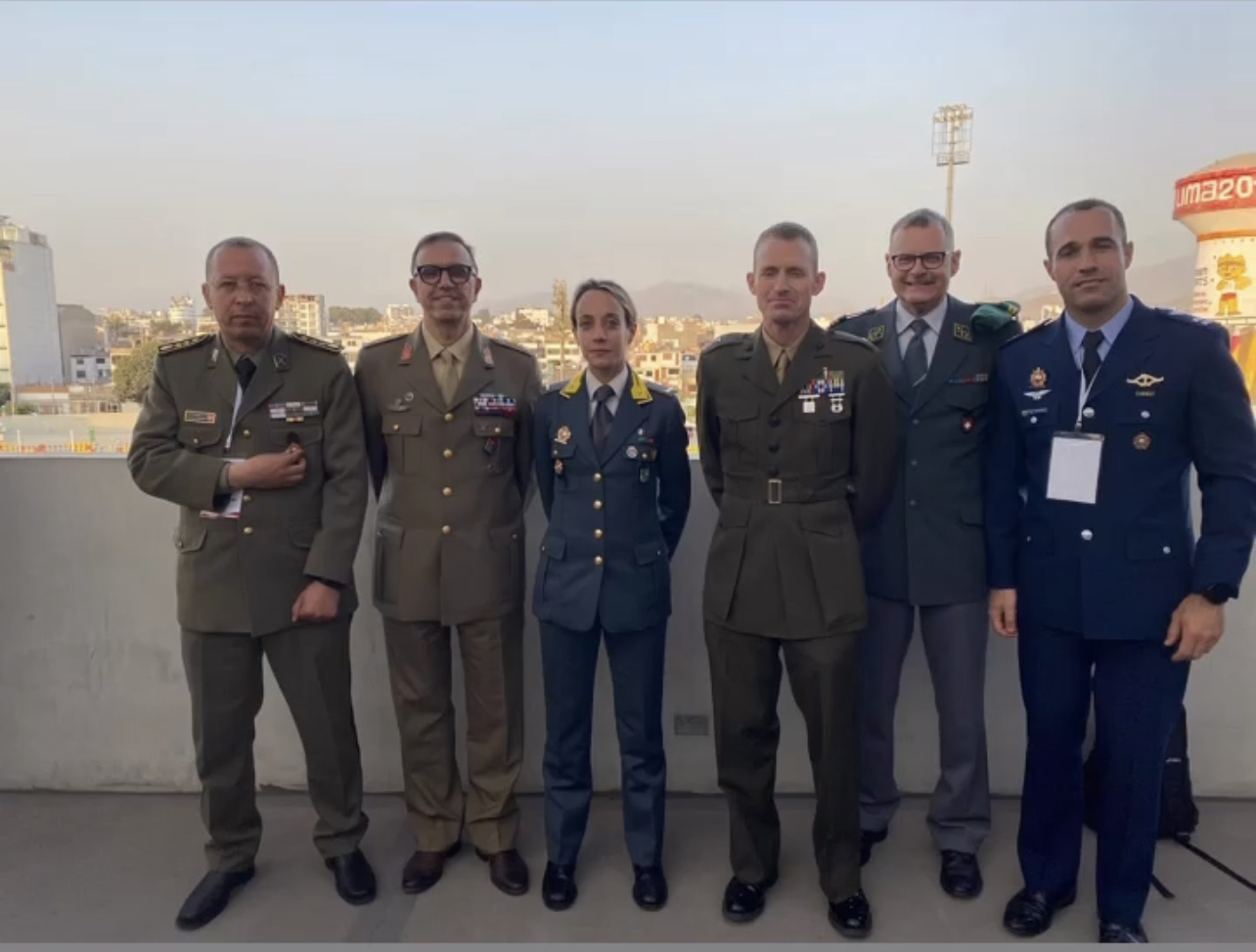 PCSC Meeting in Malage
CISM: How do you handle crisis or emergency situations at Track & Field competitions?
MM: "When crisis or emergency situations arise during our competitions, we have contingency plans in place to deal with them. We have a team of security and medical personnel ready to respond if needed. We are also in constant contact with local authorities to ensure that we are in compliance with all regulations and safety protocols. We are ready to act quickly to ensure the safety and well-being of all participants."
CISM: What are the main trends and challenges facing your sport today and how do you plan to address them?
MM: "The main challenge facing our sport is the COVID-19 pandemic. We have had to cancel many competitions due to travel restrictions and health and safety protocols. To overcome this, we have worked with national federations and organizers to set up competitions that are adapted to local conditions and restrictions. We also used technologies such as live streaming to allow fans to follow the competitions from a distance. In terms of trends, we are seeing a growing demand for more innovative and fan-friendly T&F events. We are working on new ideas to meet these expectations and create memorable experiences for fans and athletes."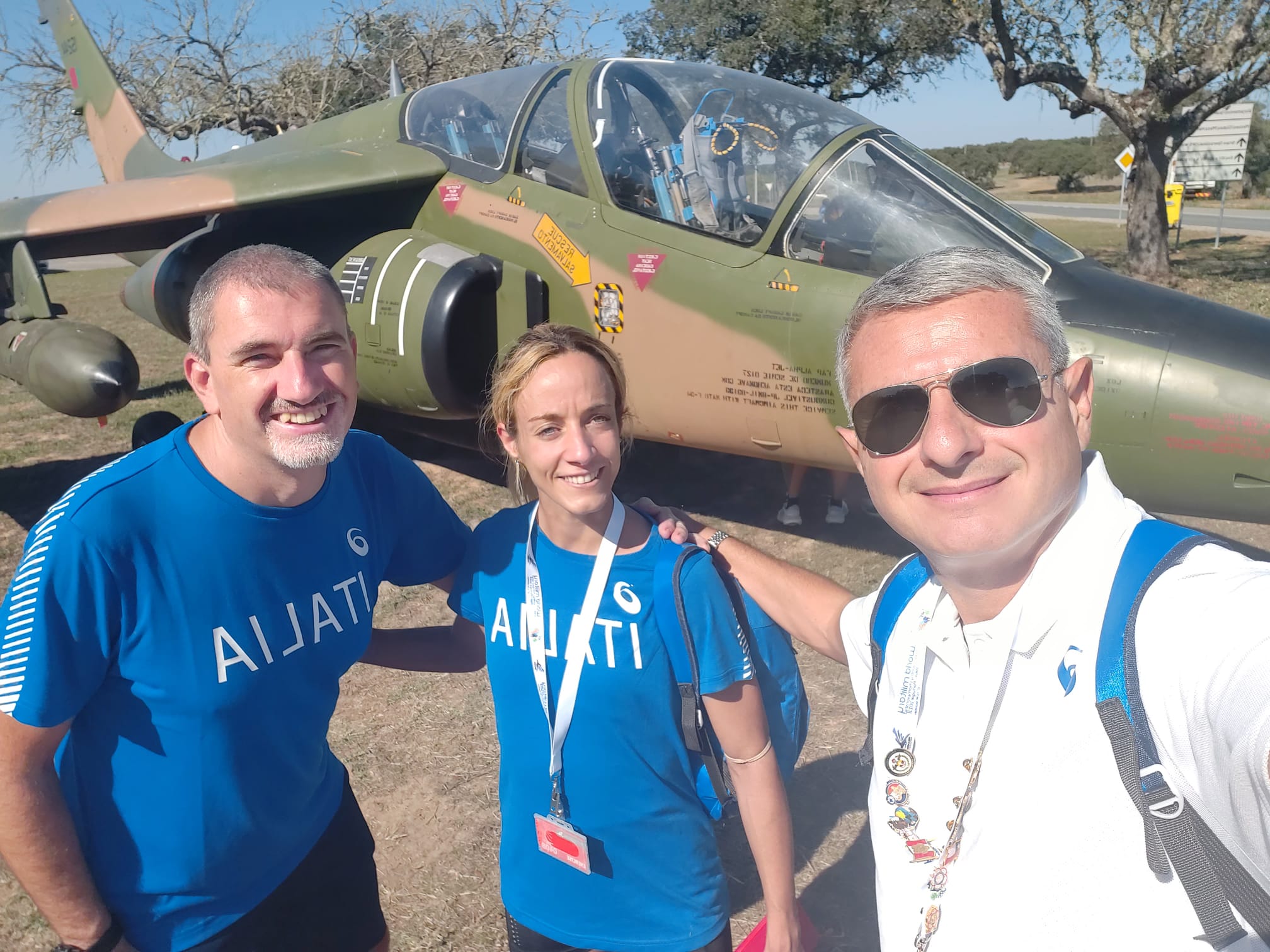 With some member of Italian Cross Country team at the 55th WMC Cross-Country 2022
CISM: What are your goals for the future of Track & Field ?
MM: "My main goal is to once again host a World Military Track and Field Championship in a stadium. This type of event can only be held every four years at the Military World Games, but I am looking for a country willing to take on this challenge. Although many nations and athletes already participate in the CISM World Cross Country and Road Running Championships, track and field also includes stadium events, and I want to bring back this premier event. This is my main goal and my biggest challenge for the future of Track & Field."
CISM: How do you deal with the problems of cheating and doping in your sport?
MM: "Doping is unfortunately a scourge in the world of athletics, but I am pleased with the approach CISM is taking to combat this problem. During my last participations in the WMC Marathon and Cross Country World Championships, many doping tests were performed on the athletes and no suspicious results were detected."
CISM: How do you think education can help prevent doping in sport?
MM: "I believe that education of athletes, officials and coaches is essential to provide information about the real risks and the personal and social consequences of these practices. In sport, we must follow the rules, and doping is a violation of the rules that shows no respect for oneself or other athletes. It is therefore important that athletes are aware of these risks and understand the consequences of their actions."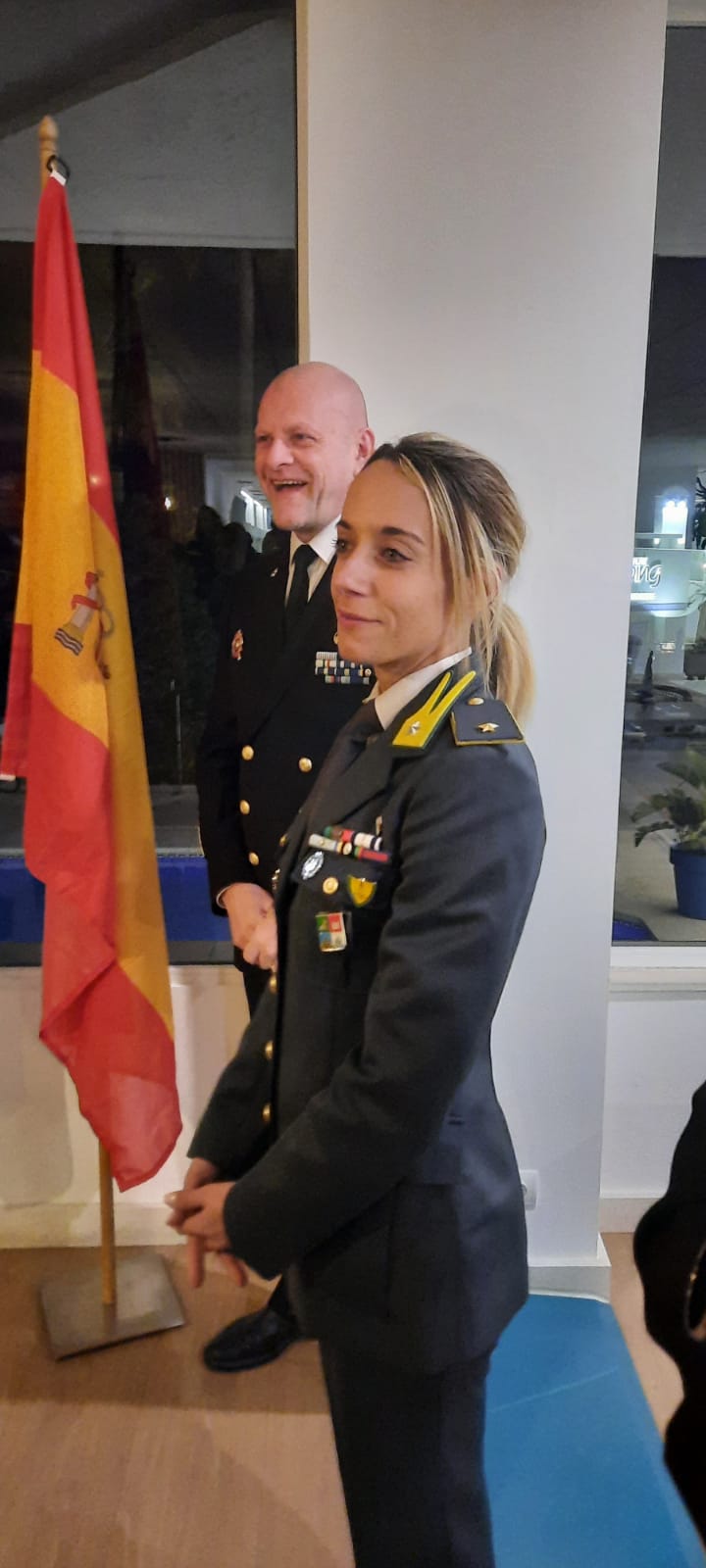 CISM: How can we make sure that athletes are following the doping rules?
MM: "The key is to continue to strengthen doping controls and improve the technologies used to detect doping. But we also need to work to create a culture of transparency and honesty in sport. Athletes must feel encouraged to play by the rules and report suspicious behavior in other athletes. Ultimately, the fight against doping is a collective responsibility and we must all work together to ensure the integrity of sport."
CISM: How do you deal with cultural differences and language challenges in an international Track & Field environment?
MM: "Well, running is a sport that transcends cultural and language barriers. Unlike other sports, running is universal and can be done anywhere in the world. As an international athlete, I have been lucky enough to compete in different countries, and I have found that the language of running is quite simple and easy to understand for everyone."
CISM: Can you give us an example of how you deal with cultural differences at your international competitions?
MM: "For example, when I participated in a race in Asia, I noticed that the runners were very respectful towards their opponents and the race officials. So I adopted their respectful attitude to adapt to their culture and show them that I respected them as well. It's just a matter of being aware of cultural differences and adapting to the environment you're in."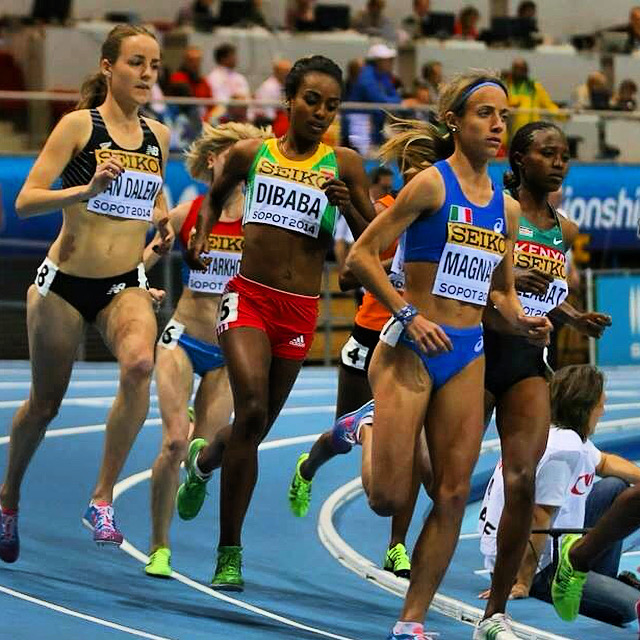 At the Sopot World Indoor Championships in 2014
CISM: And how do you deal with the language challenges?
MM: "Again, the language of running is pretty simple and universal. Generally, organizers of international competitions make an effort to speak English or provide translation for foreign athletes. But even if this is not always the case, the instructions for races are often the same, regardless of the country. And if I'm really lost, I can always ask for help from another athlete or the race organizer to help me understand. The important thing is to be open-minded and respectful of other cultures and languages."
CISM: What is your best memory as a CISM officer?
MM: "My career as an officer is still relatively short, but I am very proud of the outstanding success of the last World Military Cross Country Championship in Beja, Portugal. This championship was a huge success in terms of technical competition and participation, with one of the largest numbers of athletes present of any military world championship in recent years, across all sports. This championship has truly instilled the CISM motto of "friendship through sport"."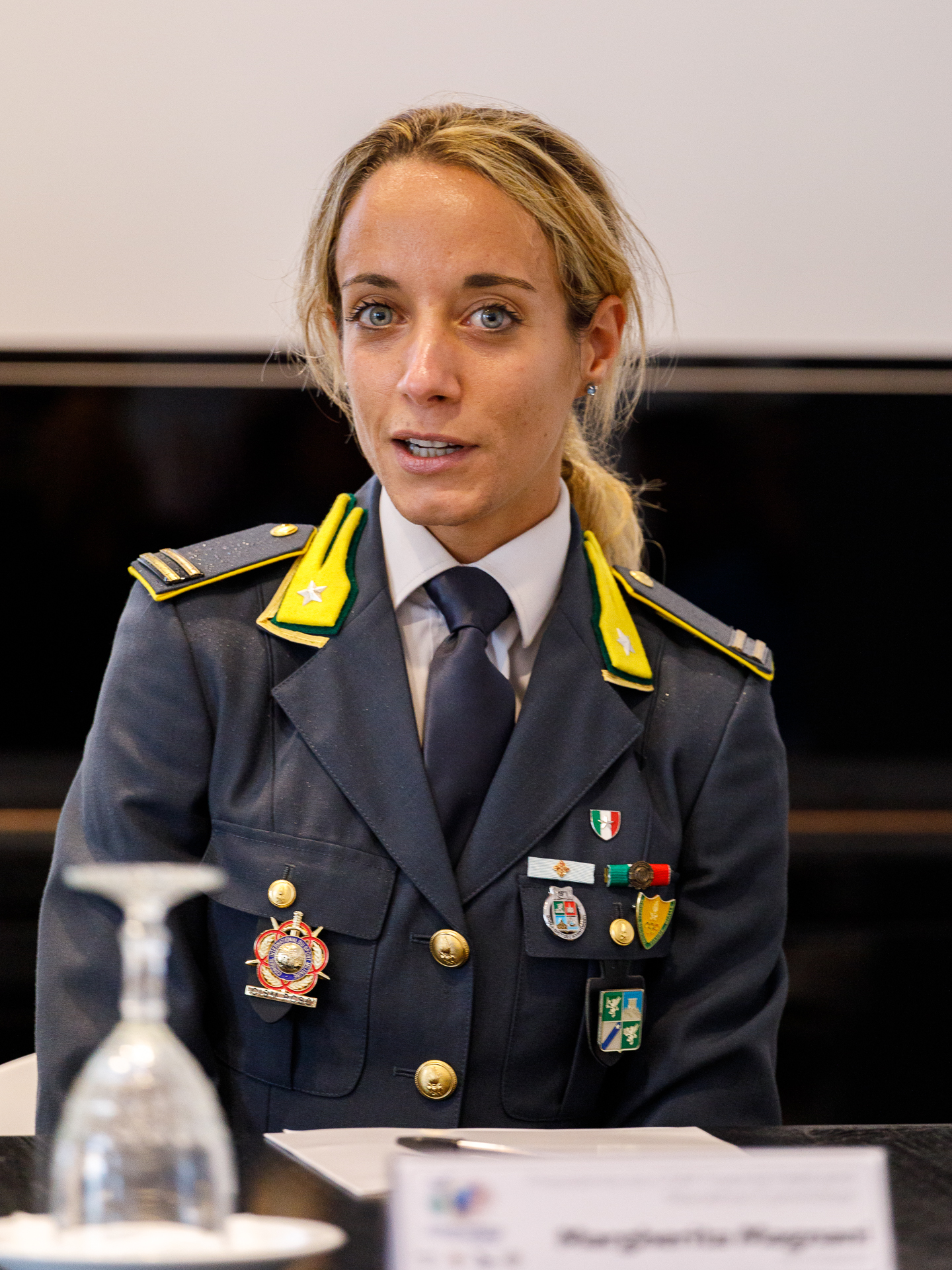 CISM: How would you describe the CISM motto?
MM: "The motto of CISM is "Friendship through Sport". This motto represents the idea that sport can bring people together and foster friendly relations between military personnel from all over the world, beyond cultural and linguistic differences. Sport is a universal language that builds strong bonds between people, and that is exactly what CISM seeks to accomplish through its sports competitions."
CISM: The last word is for you !
MM: "I want to express my gratitude for this interview. It was a pleasure to share an overview of my background and experiences in the world of military sports. I would like to stress that I am always open to discuss and collaborate with anyone interested in this field. If you have any questions or project ideas, please feel free to contact me."
(Interview from the CISM Media & Communication Department in collaboration with Lieutenant Margherita Magnani (ITA), PCSC Track & Field)